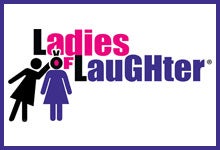 Ladies of Laughter 2018 National Competition
WHEN: THURSDAY, JULY 26, 2018 – 8 PM
WHERE: bergenPAC, 30 N. Van Brunt St., Englewood
TICKETS: $29
Tickets are available at www.ticketmaster.com or by calling bergenPAC's Box Office at (201) 227-1030.
The Ladies of Laughter® national competition comes to the Bergen Performing Arts Center with professional and amateur comediennes competing for the right to advance for cash prizes, $10,000 in national theater bookings with the Ladies of Laughter Funny & Fabulous Tour and the coveted Ladies of Laughter title.
Record
and
northjersey.com
columnist and comedian Bill Ervolino will serve as a special guest judge.
The competition's only New Jersey preliminary event and America's biggest "comedy career-builder for women" will be hosted by past Ladies of Laughter winner, Dena Blizzard (right), who is popularly known as the "Target Mom" from her Back to School Rant and her Chardonnay Go video, where she searched for the perfect glass of wine.
Since it was first introduced into comedy clubs in 1999, the Ladies of Laughter has awarded theater and comedy club bookings, major publicity and thousands of dollars to aspiring comediennes and has been a driving force behind women getting to the next level in their comedy careers," said Executive Producer and former Englewood resident, Peggy Boyce. Past contestants include Amy Schumer, Big Bang Theory star Melissa Rauch and national headliner, Tammy Pescatelli.
Those interested in registering for Ladies of Laughter should visit www.ladiesoflaughter.org. Contestants must be 18 or older and enter no later than July 20. A percentage of proceeds from the event will benefit Buddy Cares- an animal rights advocacy group that provides wellness and services to abandoned animals in need.
About bergenPAC
Founded in 2003, the 1,367-seat Bergen Performing Arts Center, or bergenPAC, is the area's cultural mecca. Housed in a historic Art Deco-style theater boasting one of the finest acoustic halls in the United States, bergenPAC attracts a stellar roster of world-class entertainment. The jewel in our crown is The Performing Arts School at bergenPAC – the innovative, educational performing arts initiative that, through programs, classes, outreach, school shows, and main theater presented shows, reach more than 30,000 students and community youth annually. The Performing Arts School provides community youth, age 2 months to 21 years, with unique, "hands-on" training in music, dance and theater by industry professionals. It is through the ongoing generosity of sponsors, donors, members, and patrons that the not-for-profit 501 (c)(3) corporation bergenPAC and The Performing Arts School are able to thrive and enrich our community.
For updates, "Like" bergenPAC on Facebook (facebook.com/#!/bergenpacfan), follow @bergenPAC on Twitter, follow us on LinkedIn and visit our website at www.bergenpac.org.