Dear Readers,

David Benkof just announced a new event, and I want to make sure you are the first to know! My friend Peter Filichia (former theater critic of the StarLedger) is conducting two master classes: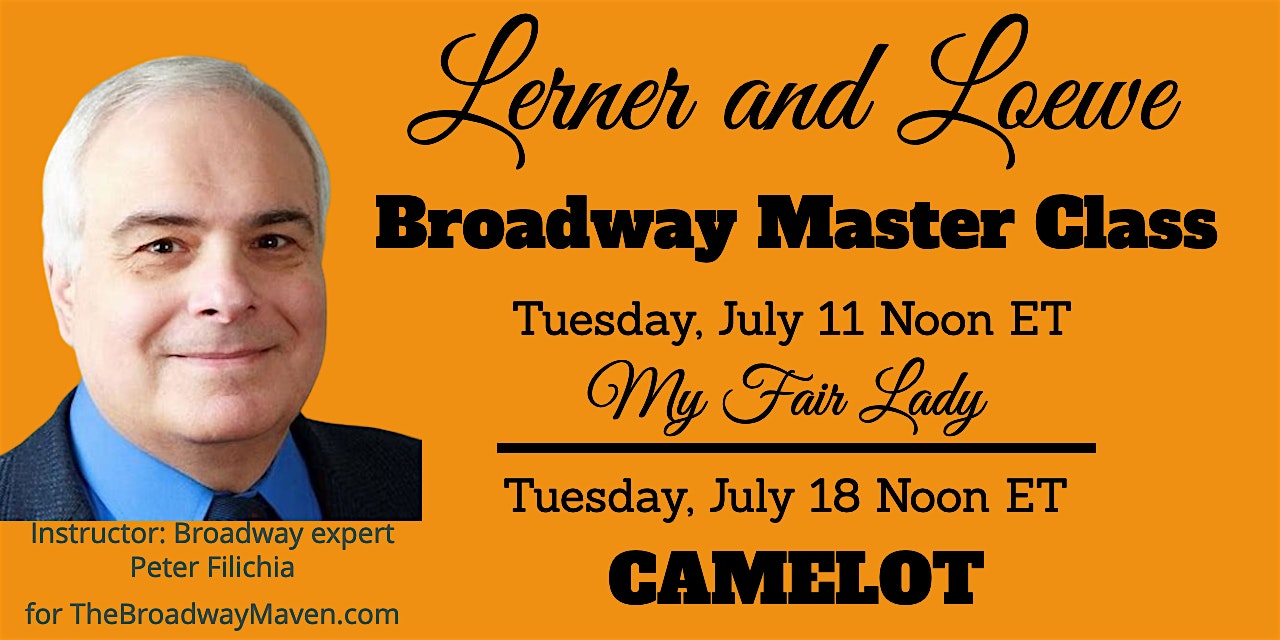 TWO Lerner and Loewe Master Classes with Peter Filichia

Tuesday, July 11, 2023, at 12:00 PM

The Broadway Maven is offering a summer set of two Master Classes taught by Broadway author and critic Peter Filichia.




These Master Classes analyze two classic Broadway musicals, My Fair Lady and Camelot, as well as the men who created these wonderful works: lyricist and librettist Alan Jay Lerner and composer Frederick Loewe. Lerner and Loewe's partnership will be examined from the late 1950s, creating both My Fair Lady and Camelot within a four-year span.

Peter will lecture on the history, reception, and stories from the stage and screen on the development of these musicals and present insight on the lives and efforts of the men who made these musicals part of the musical theater canon.

Curriculum:

July 11, Noon to 1:15 pm ET: My Fair Lady

July 18, Noon to 1:15 pm ET: Camelot

This class is not part of the ALL-ACCESS curriculum, which expired on March 31.

Early-bird tuition (by June 30) is $20. After that, the price is $25 for the series. Capacity is limited to the first 99 registrants. No refunds, no partial registrations, no exceptions.

Peter Filichia has written seven books on musicals, including his just-released The Book of Broadway Musicals Debates, Disputes and Disagreements. He has been President of The Drama Desk Awards and is head of the selection committee for The Theatre World Awards, whose ceremony he emcees each year. He is the Musical Theater Judge for ASCAP's annual awards for composers and lyricists.