JCTC Presents Global Music Series: OASIS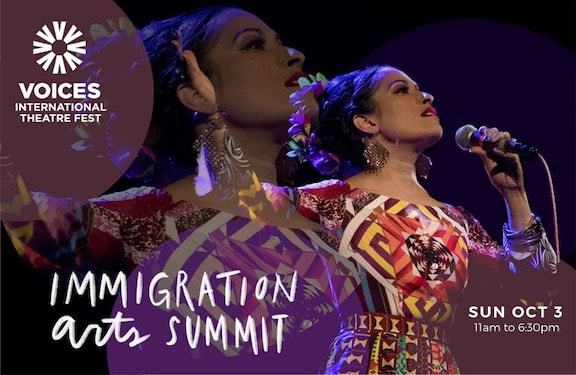 Opening Reception!
Voices International Theatre Festival & Immigration Arts Summit
Sunday, October 3, from 2:00 PM to 6:00 PM @White Eagle Hall
The in-person event marks the official Opening of JCTC's 3rd annual Voices International Theatre Festival, October 3rd, 2021-June 24, 2022. The Summit centers on a multi-disciplinary performance—mixing dance, film, and poetry—presented by immigrant artists from Guinea, Mozambique, Mexico, Jamaica, Columbia, the U.S., and Italy.
Tickets: www.jctcenter.org
BOGUMER / Virtual Theatre /Spain, Catalonia
October 9, at 12:00PM EST / Online
Voices International Theater Festival
Moscow. January 16th 1918. A year after the overthrow of Tsar Nicholas I, Anatoly Lunacharski, Lenin's People's Commissar and later Ambassador to Spain during the Second Republic, organized a trial against God in Moscow, where he charged God with genocide and sentenced him to death. At dawn the next day a firing squad fired a burst of shots into the air, towards the Moscow sky: God had been executed...
Tickets: www.jctcenter.org
Just Announced!
OASIS / JCTC Global Music Series
November 4 at 8:00 PM EST/In-Person @ White Eagle Hall
Guitarist, composer, 2021 Guggenheim fellow and Downbeat's Critics Poll top-ten guitarists alongside luminaries Bill Frisell and Pat Methany, Rez Abbasi is one of the most original voices on the current jazz scene. Here, Abbasi is joined by French harpist Isabelle Olivier and percussionist Michael Sarin on global jazz project, OASIS (Olivier Abbasi Sound In Sound). The album OASIS, released in 2019, was acclaimed both by the international press and the public, who came to applaud the project from Paris to New York, as well as at the DC Jazz Festival in Washington and the Field Museum in Chicago, where audiences numbered in the thousands.
Tickets will go on sale: Friday, September 24th
All patrons 12 and up must show proof of vaccination or a recent negative COVID test and must remain masked while at the event.
Thank you to all our sponsors and donors!