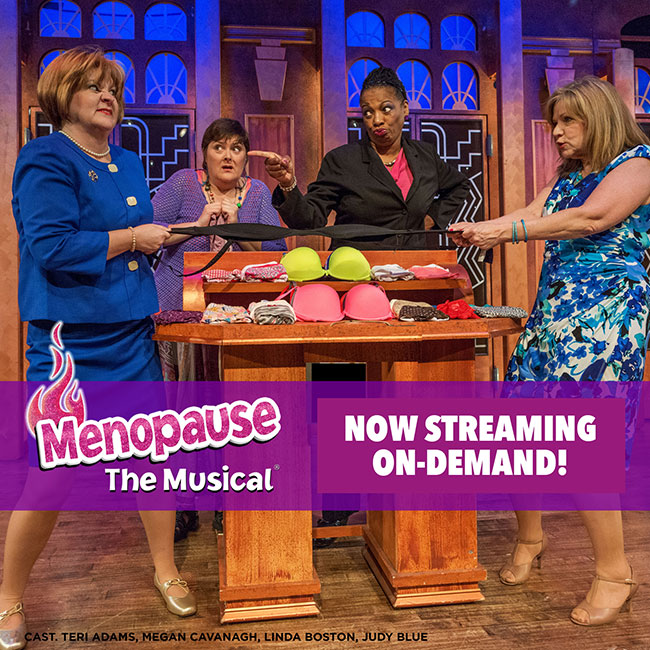 WHEN: Due to success / popular demand, GFour has extended the online streaming availability through Sunday, June 7
TICKETS: $19. Tickets to stream MENOPAUSE THE MUSICAL® can be purchased at MenopauseTheMusical.com now through 11:59 p.m. EDT on Sunday, June 7. Purchasing a ticket provides access to view Menopause The Musical® one time within two weeks of purchase; a custom link will be sent via email within 6 hours of purchase to view the stream. Each ticket purchase equals one link to view.
It's the Hilarious Celebration of Women and The Change®, now playing from the comfort of your home! The smash-hit sensation is streaming online for a limited time! Fans have two weeks to watch the show online from the date of your purchase.

Order now for only $19, and come join our DIGITAL sisterhood! See what more than 17 million women and fans worldwide have been laughing about for 19 years! Four women at a lingerie sale have nothing in common but a black lace bra AND memory loss, hot flashes, night sweats, not enough sex, too much sex and more! This hilarious musical parody set to classic tunes from the '60s, '70s and '80s will have you cheering and dancing in your living room!

A note about the filming: This footage was recorded in Aurora, IL in 2015 as part of our Survivor Tour, in partnership with the Susan G. Komen Foundation. All featured cast members are breast cancer survivors or co-survivors. We never expected to share this footage, which was originally filmed for internal archival purposes only, but through the support of Actor's Equity Association, in an effort to bring you some much needed fun and support, we are able to share this with you — our Sisterhood! Because this is a recording of a live theatrical performance, and was not originally intended for broadcast, please enjoy all the quirks of live theatre!

Menopause The Musical® will donate 10% of all sales to The Actors Fund, which provides financial support to performing arts professionals. During the COVID-19 pandemic, The Actors Fund is providing funds to cover basic living expenses, such as food, essential medications, utilities and more. The Menopause The Musical® family is proud to support these efforts. Over the past 19 years, we have donated more than $1 million to women's charities through our fundraising efforts.