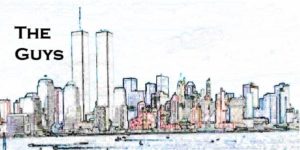 The Guys
by Anne Nelson
WHEN: September 7th and 9th. For exact dates and show times, visit studioplayhouse.org
WHERE: Studio Playhouse is located at 14 Alvin Place, off Valley Road near the Acme, in Upper Montclair
TICKETS: $25 for adults and $20 for students and seniors (discounts available for groups of 20 or more that prepay.) Opening night tickets are buy 1, get one 1 free. Tickets for The Guys are available at a benefit price of $20. Magic Trunk tickets are $10.
Tickets can be purchased online at studioplayhouse.org/tickets or by calling 973-744-9752.

Montclair Studio Players will host a fundraising benefit staged reading of the September 11th elegy The Guys by Anne Nelson, featuring Robert Barwick (of Wayne) and Claudia Budris (of West Caldwell), directed by Bill O'Brien (of Verona).
Proceeds go to support the 9/11 Fund and Studio Players, who themselves are recovering from major flood damage to their theatrical warehouse and who are very grateful for the continued donations and volunteerism from Montclair and the surrounding communities.
The official Mainstage season commences this fall with a return to musicals as it mounts Into the Woods, directed by Ben Liebert (Broadway: Wicked, Boq; NYC: Fiddler Afn Dakh, Motel) (of Verona) November 2nd through 17th. With a 10-member redux gender non-traditional cast, Liebert tackles the Stephen Sondheim and James Lapine classic, set in a soon-to-be shuttered children's library, exploring the musical's themes of childhood, nostalgia, and the formative stories that inform them.
Following on, Amy Fox (of Verona) will direct the gritty relationship drama Some Girl(s) by Neil LaBute, January 18 through February 2nd, 2019 and Alex Olexsij (of Nutley) mounts Garson Kanin's golden-age comedy Born Yesterday from March 29th to April 13th, 2019. Closing the season in June from the 14th to the 29th, Studio Players will salute Pride Month and the 50th Anniversary of the 1969 Stonewall riots, as E. Dale Smith-Gallo (of Montclair) directs a landmark play from the LGBT cannon (to be announced).
Also part of Studio's season are the Magic Trunk shows, staged for younger audiences. This season, these include:
Charlie and the Great Glass Elevator based on the book by Roald Dahl, dramatized by Richard R. George, and directed by John Fraissinet (of Nutley) (Sept 29 to Oct 7th)
A Charlie Brown Christmas by Charles M. Schulz, based on the television special by Bill Melendez and Lee Mendelson with stage adaptation by Eric Schaeffer, by special arrangement with Arthur Whitelaw and Ruby Persson, and directed by Paul Bettys (of Parsipany) with Music Direction by Debra Carozza (of Wyckoff) (December 8th to 16th)
Cinderella or the Story of Bigfoot by Elizabeth Ely Moreno and directed by Mirit Skeen (of Montclair) (February 23rd to March 3rd, 2019)
Rapunzel adapted by Karen Boettcher-Tate and directed by Beatriz Esteban-Messina (of Union City) (May 11th to 19th, 2019).