Mod3//classical to contemporary: an evening of oboes, viola and piano
WHEN: Friday, March 16, 2018 at 7:30 p.m.
WHERE: Ogden Memorial Church, 286 Main Street, Chatham, NJ
ADMISSION: free and open to all
www.ConcertsOnMain.org - 973-635-5567

The term "mod" reflects the group's flexibility to transform (or modularize) its instrumentation for a range of classical repertoire as well as new works and arrangements that have been tailored to the group. Mod3 crafts concerts that engage and delight diverse audiences, regardless of listeners' age or exposure to classical music. Their Concert on Main performance features classical and contemporary works by Brahms, Kimber, Mozart, Odermatt and Loeffler, as well as Irish surprises, in time for St. Patrick's Day. Audience members will hear lush pieces, often orchestral in scope, as well as conversations between the performers about their artistry and the pieces they'll share. Pianist Carol Ann Aicher, violist Shane Barker and oboist Kevin Chavez share works by Brahms, Kimber, Mozart, Odermatt and Loeffler, plus Irish surprises.

ABOUT CONCERTS ON MAIN
Free and open to all, varied performances by NJ and NYC professionals are held in Ogden Memorial Presbyterian Church's historic and acoustically-engaging sanctuary. As needed younger listeners can take advantage of a nearby indoor playspace. Ogden is located a block from Chatham's train station, with easy and fast NYC access; there is ample free parking in the vicinity of the church. Additional details: www.ConcertsOnMain.org, and (973) 635-5567
ABOUT THE ARTISTS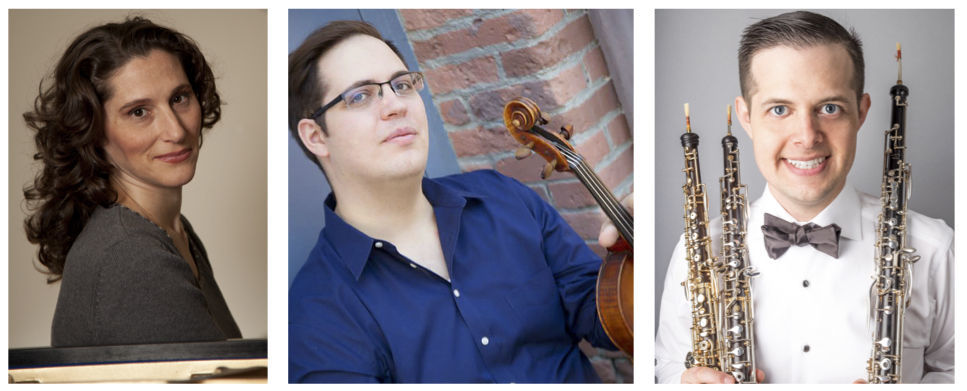 Pianist Carol Ann Aicher has performed as both a soloist and collaborative artist at a range of venues including Longwood Gardens, Strathmore Hall, Tampa Bay Performing Arts Center, Lincoln Center and Steinway Hall. A noted educator, she is on the faculty of Manhattan School of Music (MSM) where she has taught graduate pedagogy for musicians of all majors since 2001. In 2016 she was awarded the President's Medal for Distinguished Service from MSM, the highest honor bestowed by conservatory. Previously an Assistant Professor of Piano and Piano Pedagogy at West Chester University of Pennsylvania, she maintains teaching studios in both Manhattan and Langhorne Manor, Pennsylvania.
Dr. Aicher has developed curricula that incorporate contemporary educational philosophies and brain-based research to increase students' understanding of their own learning skills in order to help themselves as well as others. This "Learning as a Process" philosophy of teaching, the subject of Dr. Aicher's dissertation, has also evolved to include new techniques to strengthen the connection between learning, practicing and performing as well as reducing performance anxiety and facilitating peak performance.

Dr. Aicher earned her Doctorate of Education from Columbia University Teachers College and holds performance degrees from Manhattan School of Music and Oberlin College Conservatory as well as a Piano Pedagogy Certificate from MSM's Piano Pedagogy Institute. Her teachers have included Joseph Schwartz, Sedmara Rutstein, and Nina Lelchuk for performance and pedagogy with Vera Wills.
Native Californian Kevin Chavez has been living in New York City since fall of 2010 in pursuit of exciting new musical ventures. In addition to a range of ensemble and solo performances, Kevin is also the owner and editor for "Reed eBooks," which publishes the ground-breaking series "Making Reeds Start to Finish." Under Kevin's guidance, Reed eBooks published its first volume with the acclaimed Dr. Nancy Ambrose King in August 2012 in Apple's iBookstore and a second volume in 2014 by famed bassoonist George Sakakeeny. Additional books will be announced soon.

Together with Carol Ann Aicher and Ryan Michael Hartman, he hosts the podcast Greenroom Conversations: The Process, Unplugged, a series of interviews with performing arts professionals. Greenroom Conversations explores successful individual careers for themes that may help listeners make their own artistic way.
Kevin holds degrees from California State University in Long Beach and Manhattan School of Music. In graduate school he studied with Grammy-nominated Tomas Stacy, a veteran of the New York Philharmonic. His previous teachers include LA studio musician Joe Stone and Los Angeles Philharmonic's English Horn player Carolyn Hove.
Violist Shane Barker has distinguished himself as both recitalist and chamber musician. Recent highlights include performances on faculty recitals at Settlement Music School and Rowan University and at Lincoln Center's Bruno Walter Auditorium for a concert celebrating Britten's 100th Birthday. In an effort to expand the solo viola repertoire, Shane has given twenty premieres of new works by Jeremy Gill, Julia Alford-Fowler, and Andrew Litts, among others.

A founding member of the Philadelphia Harp Trio, he has also appeared as a guest artist with the Alieghri Duo and Princeton Chamber Players. Other noted collaborators include countertenor Bryan DeSilva, clarinetist Ana Ramirez, and pianists Ruth Maletz, Ekaterina Popova and Matthew Stephens. He has given benefit concerts for the Trevor Project, Autism Speaks, Komen for the Cure and the Veteran's hospital in Lyons, NJ. Orchestrally, Shane has performed under the batons of Rosen Milanov, Charles Dutoit, Luis Biava, Charles Barker and the late Joseph Primavera in Carnegie, Alice Tully, Verizon and Avery Fisher Halls. As assistant principal viola of the Philadelphia Youth Orchestra, he played for concerts commemorating the retirement of Supreme Court Justice Sandra Day O'Connor and the 100th anniversary of the sinking of the Titanic.

Mr. Barker holds music degrees from Temple University and the University of North Carolina School of the Arts. His former teachers include Karen Ritscher, Evelyn Jacobs-Luise, Ann Roggen, Helen Kwalwasser and Joseph dePasquale. A respected and sought-after teacher, his accolades also include recognition as a 2013 finalist in Midori Goto's International Community Engagement Program.