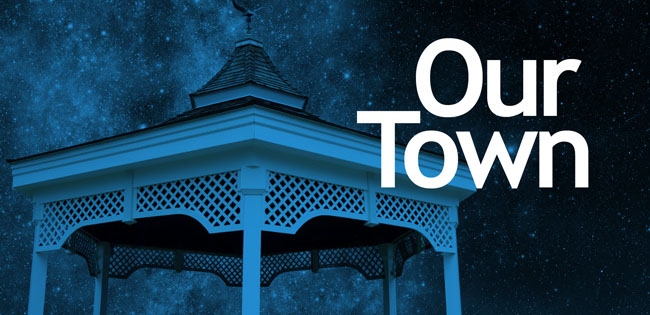 by Thornton Wilder
Directed by Kate Lyn Reiter
WHEN: November 3, 4, 10, 11, 17, 18 at 8:00 PM; November 12, 19 at 2:00 PM
WHERE: Chester Theatre Group, Black River Playhouse, corner Grove & Maple Sts., Chester
TICKETS: Adults $20; students/seniors $18
908-879-7304
Tickets may be purchased online at www.chestertheatregroup.org .
Our Town could be Chester N.J. or Any Town, USA. It's about the day to day events in a small town from 1901 to 1913. The paper is delivered, the milkman visits, Mom makes breakfast for children going to school, time passes and life continues. It is only when such routines are interrupted that the fleeting beauty of the everyday is brought more clearly into perspective. A Stage Manager guides us through this elegant metaphysical portrait of the ordinary but remarkable joys and sorrows that define our lives. Our Town is a great American play celebrating the magic that makes a community.
Ever since its first performance at the McCarter Theater in 1938, Thornton Wilder's Our Town has been beloved by audiences and lauded by critics everywhere. Wilder's Pulitzer Prize-winning portrait of small-town life in the early twentieth century has enjoyed four acclaimed runs on Broadway, a film, several musical and television adaptations and countless productions at theatres across the country and all over the world.
The talented cast of Our Town includes Sarah Henley of Washington; Will Roper of Berkeley Heights; Bobby Becht of Morris Township; Arden Henley of Washington; Colleen Grundfest of Watchung; Alexa Yudoff of Succasunna; John Santucci of Watchung; Chip Prestera of Stirling; Karen Thornton of New Providnce; Gayle Hendrix of Chester; Kevern Cameron of Hamburg; Gloria Lamoureux of Succasunna; Jackie Jacobi of Edison; Steve Nitka of Hackettstown; Bob Sackstein of Chester; Paula Roper of Berkeley Hts; and Roseann Ruggiero of Ledgewood. The production is directed by Kate Lyn Reiter
The Chester Theatre Group performs in The Black River Playhbouse, an intimate, 100-seat theater in the heart of Chester Borough's historic district. The venue's in-the-round format ensures that every seat offers an engaging, memorable experience for each audience member. The theater is located on the corner of Grove Street and Maple Avenue. For more information, visit the CTG website at http://www.chestertheatregroup.org.