By Ruth Ross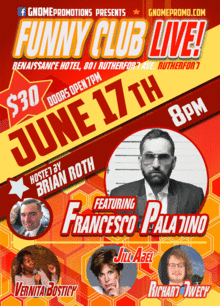 Despite having watched The Last Comic Standing on television and attending shows by such famous comics as Buddy Hackett and Jackie Mason (back in the Dark Ages), I have never seen a live comedy club show. That's why I was intrigued by an invitation from Gnome Promotions to review their production, Funny Club Live! at the Renaissance Hotel in Rutherford last Saturday night.
There, for one night only, the audience was treated to four stand-up comedians—one newbie, one up-and-coming, and two seasoned comics. The result was a mixed bag of humor, delivery and shtick.
Thirty-nine-year-old Brian Roth served as emcee for the evening. He livened up the presentations by indulging in some of his own comedic stories before and between the various presentations. He told some inevitable New Jersey jokes (turnpike tolls, Taylor Ham vs. Pork Roll), riffed on marriage (and being supported by a wife with a lucrative job so he can pursue his comic dreams) and even talked about the size of his head/baseball cap. He looked comfortable onstage and had an ironic delivery.
Opening the show was Jill Abel, new to stand-up. She had some funny bits about being married to a born-again Christian (she's Jewish, from Livingstein, an ancient joke) and eating goyish Spam and Dinty Moore; working for the state of New Jersey; her husband's recent purchase of a sports car; and what to do after retirement. For a newcomer, Abel displayed an easy manner and smooth delivery.
She was followed by Richard Dweck, a 23-year-old self-described virgin who talked too fast, had to consult his joke list stored in his pocket and looked extremely uncomfortable onstage. While that may have been part of his act, it was painful to watch. He proclaimed himself to be an eternal 10-year-old, and he certainly dressed the part in sneakers, jeans and a plaid shirt. His comedy revolved around his success with women and a lack thereof—since elementary school. Despite having appeared in New York comedy venues, he lacked polish.
Third on the bill was Vernita Bostick, a school guidance counselor in a relationship (after 10 years). She expounded on ways to attain and maintain physical health with a funny bit about exercise—to be specific, yoga—and the difficulty of some of those awkward poses. Black names, high cost of attending college and some R-rated bits were part of her energetic, enthusiastic, snappy delivery. She was very funny.
The "main event," Francesco Palatino, presented a set made up of several bits that seemed at odds with his dinner jacket and "cool" hairstyle more closely associated with a nightclub comedian. A woman from Houston, Texas, opened with a country-style guitar solo of the Cranberries' anti-war song "In Your Head (They Are Dyin')" that seemed strange in a comedy routine. Palatino never referred to it again, except to thank the woman for appearing with him. The gold dinner jacket also undercut Palatino's subjects: breastfeeding in public; preferring his kid to a pet; children's names and little girls' play dates; Discovery Channel shows; going to the gym; and kids' cartoons—all delivered like a disgruntled curmudgeon. It was a buffet of subjects that, while funny on their own, didn't jell into a coherent theme. It certainly was not what I expected, given his attire and appearance. Or maybe that was supposed to be funny, part of his act.
So, my first experience with a live comedy show was, like The Last Comic Standing, a mixed bag. Abel showed promise; Dweck looks and sounds like he needs more practice and work on his delivery; Bostick nailed the persona and appropriate humor; and Palatino could use some tweaking of his subjects and appearance to attain more coherence.
Thanks, Gnome Promotions, for inviting me to review. It was an interesting experience, and one I can add to my critical arsenal.
Funny Club Live! was performed at the Renaissance Hotel, just off Route 3 in Rutherford on Saturday, June 17. If you like live comedy, keep your eyes peeled for another show or go to www.gnomepromo.com to see what's up next.