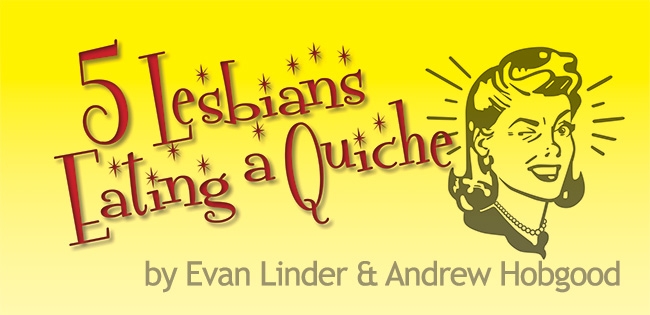 5 Lesbians Eating a Quiche
WHEN: Friday, April 28th, and extending for eight shows through Sunday, May 14th. Performances are Friday and Saturdays at 8:00 and Sundays at 2:00pm.
WHERE: Black River Playhouse, the corner of Grove Street and Maple Avenue, Chester
TICKETS: $20.00 with a discounted price of $18.00 for seniors over 65 and students under 18.
Tickets may be purchased online at www.chestertheatregroup.org .
It's 1956 and The Susan B. Anthony Society for the Sisters of Gertrude Stein are hosting their annual quiche breakfast—and YOU'RE INVITED! They may appear to be docile, suburban housewives on the outside, but as the meeting progresses and the fear of atomic warfare looms nearer, the claws come out along with every skeleton in the sisters' closets!
Evan Linder & Andrew Hobgood both out of Chicago, wrote this winner of the 2012 NYC International Fringe Festival, Best Overall Production, which continues to have countless productions across the country.
The talented cast of 5 Lesbians Eating a Quiche includes Lynn Langone of Cranford in the role of Lulie Stanwick; Nikki Simz of Wharton in the role of Dale Prist; Julie Camelotto of Morristown in the role of Ginny Cadbury; Tracy Lee Witko of Somerville in the role of Veronica Schultz; and D'Angelique Dopson of Rockaway in the role of Wren Robin.
The Chester Theatre Group performs in The Black River Playhbouse, an intimate, 100-seat theater in the heart of Chester Borough's historic district. The venue's in-the-round format ensures that every seat offers an engaging, memorable experience for each audience member. The theater is located on the corner of Grove Street and Maple Avenue. For more information, visit the CTG website at http://www.chestertheatregroup.org .