MOCAKIDS Lunar New Year Meet & Greet with Author Katrina Moore & Illustrator Xindi Yan
Saturday, January 14, 2023, 3:00 pm – 3:45 pm | FREE
Are you ready for the Lunar New Year? We sure are, but Daisy's not quite ready to celebrate. When she travels to China for the Lunar New Year, she ends up grumpy. Can Yeh-Yeh save the day by putting a smile on her face?
Begin your celebrations early at this exciting meet and greet with author Katrina Moore and illustrator Xindi Yan. Follow along as Katrina reads their new book Grumpy New Year and then stick around for an especially grumpy (but cute!) drawing activity with Xindi. Best for children ages 4-8. Older and younger siblings are welcome. A book signing will follow the reading!
This event is free to the public. To RSVP, simply register here!
About the Book
This funny and heartwarming follow-up to Grandpa Grumps celebrates Lunar New Year and the love of a doting grandparent. Daisy is traveling to China, and she's excited to see her Yeh-Yeh again! She has big plans for all the fun they'll have together in preparation for Lunar New Year, like flying kites and making jiao zi. But when she arrives, she has trouble sleeping and is less jolly than she hoped. Throughout the week, Yeh-Yeh tries all sorts of things to help her have a fun holiday and get her past her grumpiness. Will Daisy be able to get some rest and have one perfect day before she goes home?
Buy the Book
Grumpy New Year and other books written by Katrina Moore and illustrated by Xindi Yan are available for purchase at Yue & Me books, McNally Jackson, Indie Magic, Bookshop and booksellers near you. They make the perfect gift for young readers, just in time for Lunar New Year!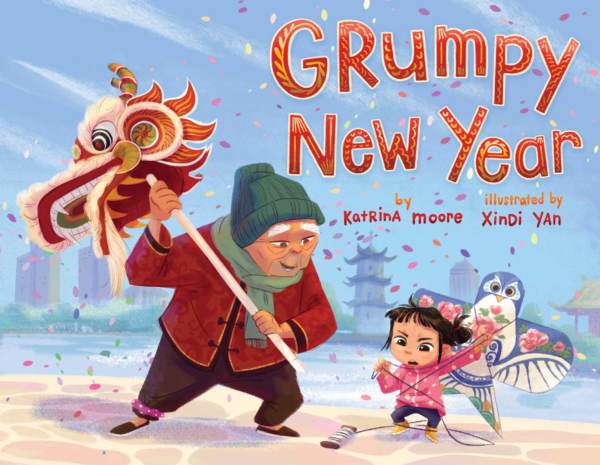 About the Author

Katrina Moore writes and teaches in a part of New Jersey just outside Philadelphia. She's also taught in Maryland, Massachusetts, and New York after earning an MA in elementary education. Her mission is to create books that children will hug for ages, like One Hug, Grandpa Grumps, and the Teeny Houdini series. When not teaching elementary school kids or writing, she's cooking without a recipe, painting outside the lines, or snuggling up with her two kids, husband, Pomapoo pup, and of course, a cozy book. Find out more about Katrina at katrinamoorebooks.com.
About the Illustrator

Xindi Yan left behind a small city in China, traveling thousands of miles to New York to realize her dream of being a published artist. She received a BFA in illustration from Pratt Institute and has worked as an illustrator for the gaming industry and for children's books, some of which include Grandpa Grumps, Sylvia Rose and the Cherry Tree, The Itty-Bitty Witch, and the Craftily Ever After series. She currently lives in Brooklyn with her husband, and dreams about having a puppy in the near future. See more of Xindi's work at xindiyanart.com.
MOCACREATE: Lunar New Year Museum Makeover with Teaching Artist Yu Rong
Saturday, January 14, 2023, 2:00 pm – 4:00 pm | FREE
It's back! Put a spin on a MOCA tradition— help welcome the New Year by making handmade decorations to liven up the Museum. Join teaching artist Yu Rong in transforming our space with colorful creations, which will be on display through our annual Lunar New Year Family Festival!
快来参与MOCA的装饰庆典!请你一起来迎接新年,亲手制作各种装饰,打造一个生机勃勃的华人博物馆。让我们的空间充满你多彩的创意,并将这些作品在春节家庭聚会上展示给大家!
FREE — no RSVP required, simply show up!
Learn more here!
Lunar New Year Family Festival!
Saturday, January 21, 2023, 2:30 pm – 5:30 pm | FREE
It's almost time tù (兔) celebrate! Ring in the Year of the Rabbit with an afternoon of festivities for the whole family—hop, skip, or jump on over!
China Institute: An Evening of Classical Instrumental Music – Year of the Rabbit Celebration 玉兔迎月欢,花绽春光妍
Friday, January 13, 2023, 5:30 pm - 8:00 pm
Come to celebrate Chinese New Year, the Year of the Rabbit with China Institute and the Chinese Music Ensemble of New York!
This evening program will feature performance by renowned musicians trained in traditional Chinese musical instruments including Flute, Guzheng, Erhu, Ruan, Yangqin, and Percussions, to indulge the audience with a memorable experience of classical Chinese music. Audiences will also get the opportunity to enjoy intimate interaction and conversations with the artists, accompanied by refreshments provided by China Institute. This is a unique chance to learn about the characteristics of different Chinese musical pieces and have fun in the meantime!
©2021 Museum of Chinese in America (MOCA). All rights reserved.
Museum of Chinese in America
215 Centre Street
New York, NY 10013