Your February Online Culture Fix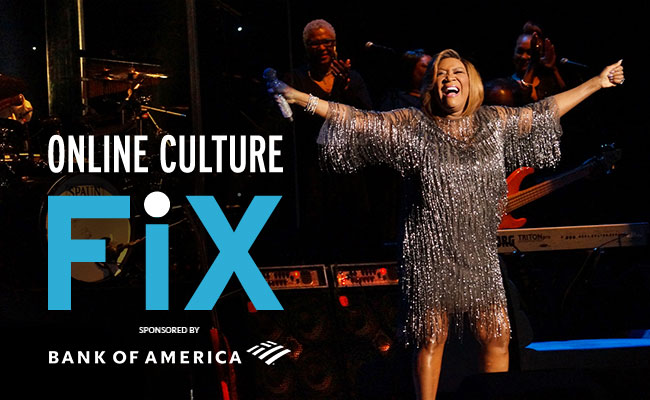 We're back with another edition of State Theatre's Online Culture Fix and this month we're celebrating Black History Month! Each month, we continue to add videos, playlists, games, and more to our Culture Fix page, so make sure to bookmark the page.

Help support State Theatre—a donation in any amount will go a long way in these difficult times.
ICONIC BLACK MUSICIANS
Celebrate Black History Month with our playlist of songs from some of the most iconic Black musicians of all time.
LEARN MORE ABOUT BLACK HISTORY MONTH
Here are some activities to help kids learn more about Black History Month, including recommended books and movies, science activities, and more.
HISTORIC BLACK LEADERS
These coloring pages for your kids celebrate historic Black leaders, trailblazers, and heroes that helped shape our country.
BLACK HISTORY MONTH BOOK RECOMMENDATIONS
Hidden Figures by Mary Lee Shetterly
New York Times bestselling book, Hidden Figures—which inspired the 2016 film—is the true story of four African-American female mathematicians at NASA who helped achieve some of the greatest moments in our space program.



The Hate U Give by Angie Thomas
Inspired by the Black Lives Matter movement, this powerful YA novel follows 16-year-old Starr Carter and her struggle for justice.


Shopping on Amazon?
Use AmazonSmile – You shop. Amazon Donates to State Theatre! There's no cost to you and your shopping will help support our programs and mission!
BE MY CRAZY VALENTINE ONLINE TRIVIA
Wed, February 10 at 7pm ET — Minimum Donation $5
Drag comedian and singer Pissi Myles returns as the hostess with the mostess for a Valentine's-themed Trivia Night! Trivia will include pop culture questions on love and heartbreak in music, movies, famous couples/breakups, a little Valentine's Day history, and more! Laugh and enjoy an evening of gossipy fun with people from all over the country! The first-place winner gets bragging rights, a $150 State Theatre gift certificate, and a State Theatre swag bag. The second-place winner gets a State Theatre swag bag.
BE MY CRAZY VALENTINE PLAYLIST
Let's be honest, there are ups and downs when it comes to our love lives, and that is why we mixed it up with this Valentine's playlist. There is something for everyone, no matter where your love life stands.
BROADWAY ROMANCE
Grab your Valentine and sing some duets from our Broadway Romance playlist on Spotify! It will give you ALL the butterflies.
WEST SIDE STORY
Watch State Theatre's Artist-in-Residence, violinist Yoon Kwon Costello performing "America" from the beloved musical, West Side Story. Accompanied by pianist Min Kwon. Residence in partnership with the Center for Musical Excellence.
JOANIE LEEDS—MILK & COOKIES
Streaming now through February 14 — Minimum Donation $10
For her original kids music, singer-songwriter Joanie Leeds has won first place in the USA Songwriting Competition, the Independent Music Award, Gold Parents' Choice Award, NAPPA Gold Award, and Family Choice Award. One of the top kindie rock singers, Joanie is back by popular demand with her high-energy kids' rock.
AARON NIGEL SMITH—MILK & COOKIES
Streaming now through May 1 — Minimum Donation $10
Experience the peaceful joy of Reggae with a performance by Billboard chart-topper Aaron Nigel Smith! The Milk & Cookies artist recently released In Our America, an album that debuted at #1 on the Billboard Reggae charts. Songs from the album are featured in his Milk & Cookies performance!
RALPH'S WORLD—MILK & COOKIES
Streaming now through May 1 — Minimum Donation $10
Dance, sing, and rock out with indie rock star and children's entertainer Ralph Covert! Ralph Covert is the creator of Ralph's World, the kids' indie rock band that wins over children and parents alike. Ralph's State Theatre Milk & Cookies debut performance will feature music, silliness, and fun for the whole family!
CRAFTS FOR KIDS
Valentine's Day is coming up and we have put together a list of some fun and easy crafts for you and your children to make at home.
JOHN WILLIAMS TURNS 89
The legendary composer of movie scores such as Star Wars, Indiana Jones, and Harry Potter, turns 89 on February 8th. Here is our playlist tribute to work of John Williams.