GET A TASTE OF JEWISH CULTURE WITH DAVID BENKOF
Probably the most accomplished female singer-songwriter of the 20th century, Carole King wrote familiar music for other acts (Will You Still Love Me Tomorrow, One Fine Day, and The Loco-Motion). But when her landmark album Tapestry was released in 1971, she truly came into her own, with songs like You've Got a Friend, So Far Away, and It's Too Late.
Check out this 11-minute highlights reel to see some of the songs we'll be examining in class. You'll get exposure to some of her lyrics, music, and performance style.
This FREE online class will look closely at her life, music, lyrics, and legacy.
There are fewer than 50 tickets left for the original Monday, December 14, at Noon ET class, but I have added a second meeting for Tuesday, December 15, at Noon ET, for which hundreds of tickets are available.
Sign-ups: bitly.com/BenkofCarole
On Thursday, December 17, Jewish Culture 101 finishes up its three-part Sondheim Seminar with an exploration of Into the Woods. Check out this 5-minute very fun "Culture D'rash" video showing the ways Freudian theories are expressed in the show. What other ideas are important? How did Sondheim individualize the musical themes for each character? What sly tricks engross us in his Fractured Fairy Tales? And who's the antagonist of the musical? Hint: it's not The Witch and it's not The Giant.
TUITION: $1.
Sign up: bitly.com/BenkofSondheim
An All-Access pass for the First Semester of 2021 is a real bargain at just $49 (Early Bird rate through December 31). The benefits are listed above. They simplify the experience of Jewish Culture 101 students while offering exclusive bonus benefits like a weekly Jewish Culture Spotlight and a monthly bonus class never before offered (intended topics: "Steven Spielberg 101"; an all-new "More Sondheim's Lyrics"; "George Gershwin 101"; and more). Sign up: bitly.com/BenkofFirst
Upcoming calendar:
• Monday, December 14, Noon ET Carole King 101 (FREE, fewer than 50 tickets left)
• Tuesday, December 15, Noon ET Carole King 101 (FREE, plenty of tickets left)
• Thursday, December 17, Noon ET Into the Woods (tuition $1)
• Monday, January 4, Noon ET Annie Get Your Gun and Kiss Me Kate (FREE)
• Thursday, January 7, Noon ET Jewish Women Photographers (tuition $2)
• Thursday, January 7, 1 pm ET Jewish Women Poets (included in previous $2 tuition)
• Monday, January 11, Noon ET Guys and Dolls and My Fair Lady (FREE)
• Monday, January 18, Noon ET The Music Man and Gypsy (FREE)
• Monday, January 25, Noon ET Hair and Grease (FREE)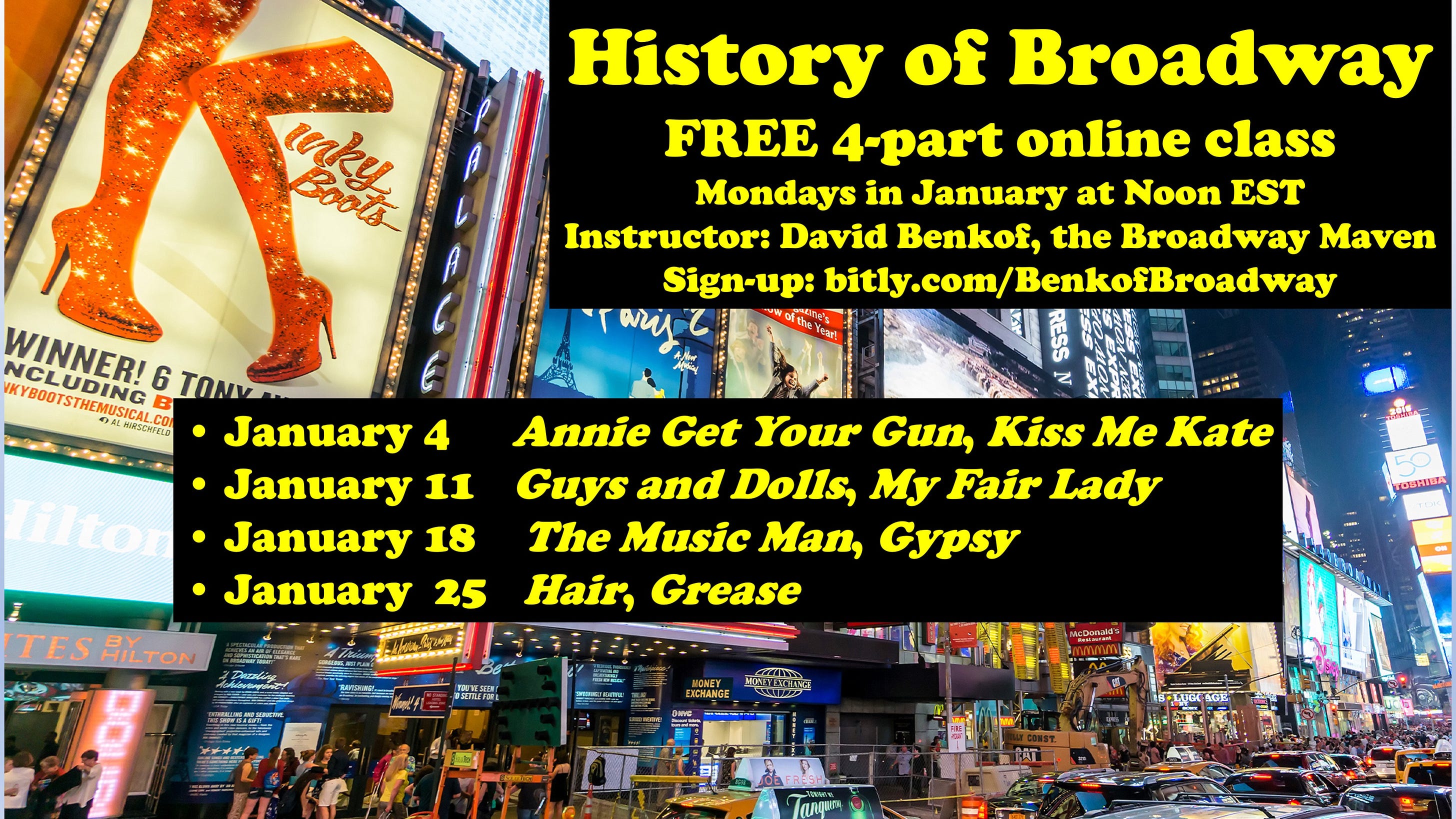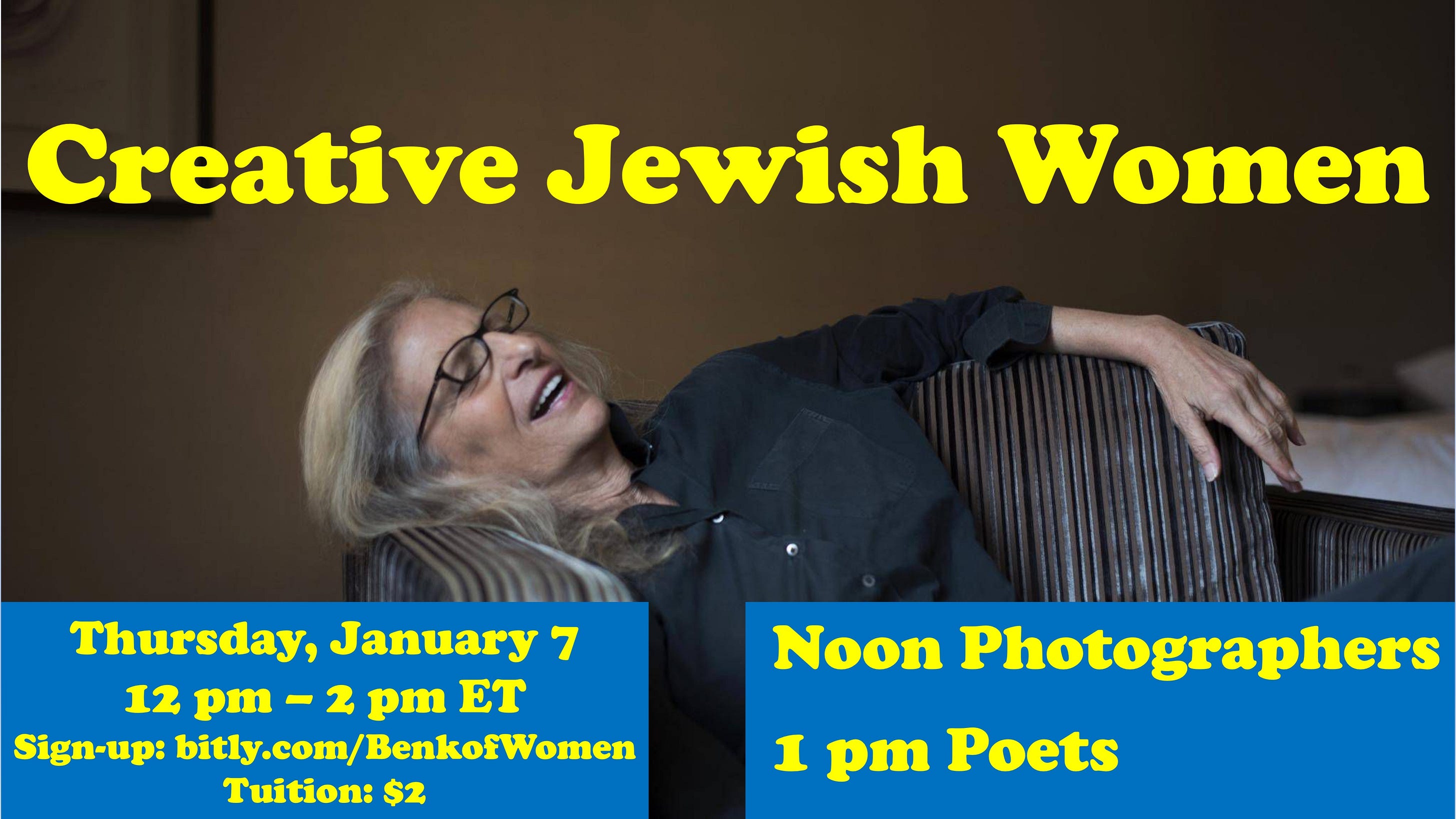 Finally, David is booking Zoom classes for individual synagogues, Hadassah chapters, Federation committees, etc. Contact me if you'd like me to present one of my talks to an organization you work with. Right now the most popular ones are "If You Could See Cabaret Through My Eyes"; "SNL's Jews"; "Contemporary Jewish Broadway"; and "Debbie Friedman 101" but I can offer nearly any past class. Contact him at DavidBenkof@gmail.com.