FUNNY JEWS MARATHON announced; new tix added for Singer-Songwriters
Great news! The very popular "Funny Jews" classes from Jewish Culture 101 are coming back for a four-part marathon on Wednesday, November 18. Tuition is $1 and the sign-up is at bitly.com/BenkofMarathon. Students can take one or all classes.
Schedule:
Noon ET MAD Magazine
1 pm ET Norman Lear's Sitcoms
2 pm ET Funny Women
3 pm ET SNL's Jews
Also, due to overwhelming demand I've added an additional 100 tickets to the completely full Peter, Paul, & Mary 101 (Monday, November 16) and Carole King 101 (Monday, November 23) classes over and above the 1,000 free tickets already distributed. The overflow tickets are $10 each.
As of Thursday afternoon, there were still FREE spots left in these upcoming Monday classes (Noon ET):
Monday, November 30 Billy Joel 101 (ALMOST FULL)
Monday, December 7 Rodgers & Hammerstein 101
Finally, my popular Greatest Hits series on Stephen Sondheim returns on Thursdays at Noon ET December 3, 10, and 17 (tuition for the series $1):
Thursday, December 3 Sondheim's Lyrics
Thursday, December 10 West Side Story
Thursday, December 17 Into the Woods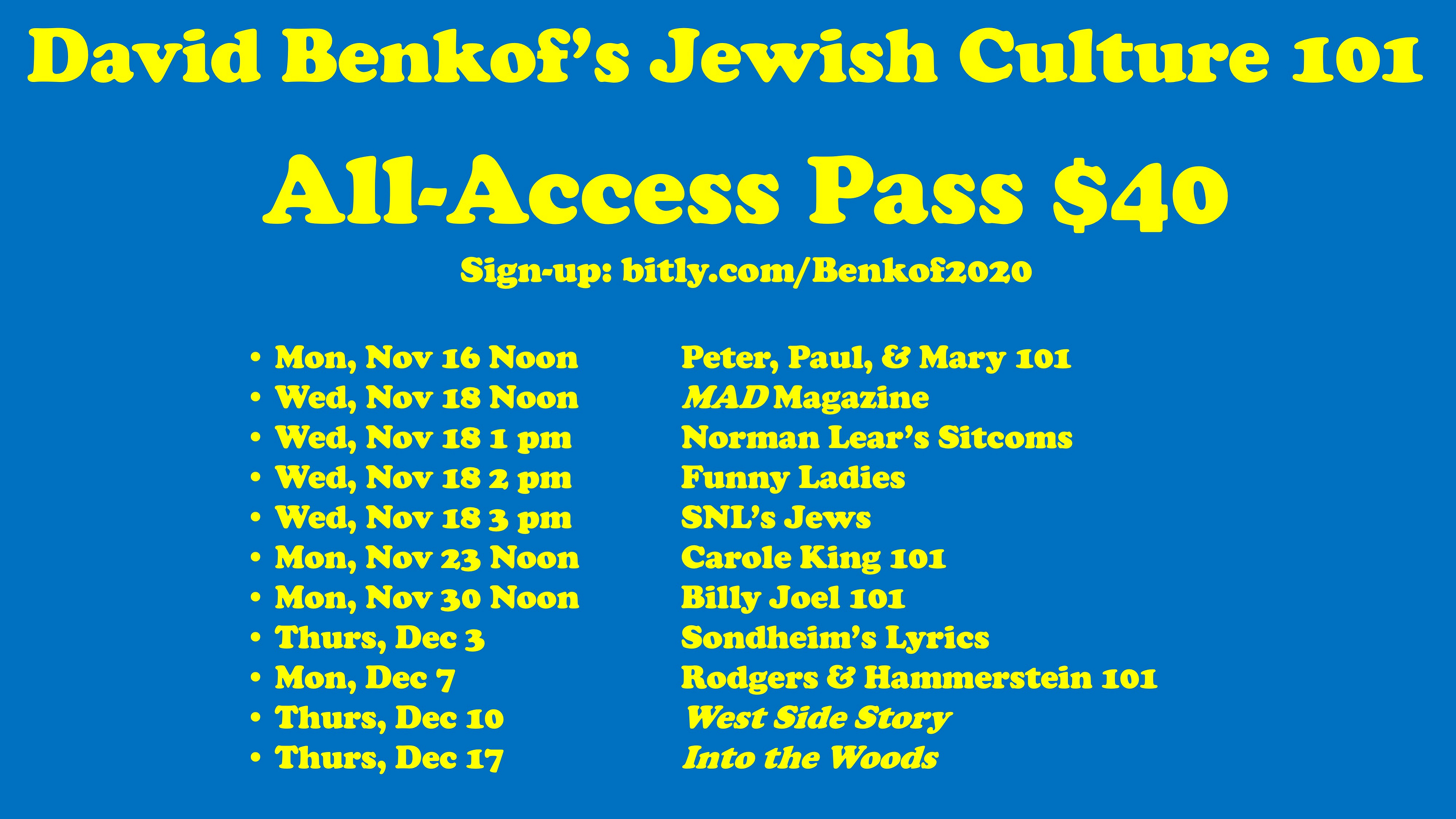 Do the math!
There are 11 classes left in 2020, including two that are already full and two more that will probably fill up; and seven classes that require tuition. COVER ALL OF THAT with a $40 ALL-ACCESS Pass, available at bitly.com/Benkof2020
Note: students with an All-Access Pass get admitted to all classes even if they are otherwise full.