MOCA Teahouse Reading Club: Who is Asian American?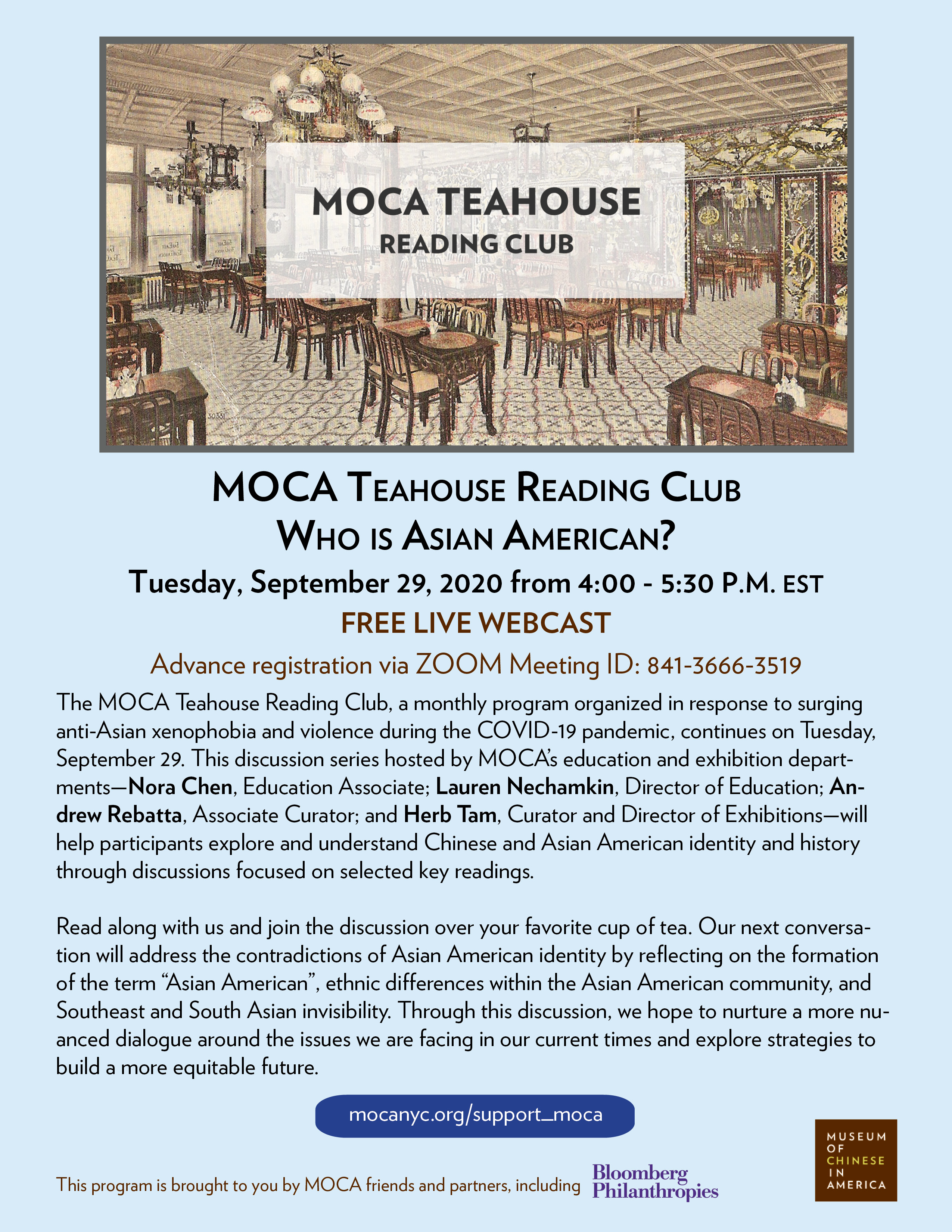 WHEN: Tuesday, September 29, 2020 from 4:00 P.M. - 5:30 P.M. EST
WHERE: Zoom; The event will also be recorded for on-demand viewing on MOCA's Vimeo channel: vimeo.com/mocanyc by Friday, October 2.
The event is FREE, but advance registration is required on ZOOM here or via ZOOM Meeting ID: 841-3666-3519.
The MOCA Teahouse Reading Club, a monthly program organized in response to surging anti-Asian xenophobia and violence during the COVID-19 pandemic, launched in June. This discussion series hosted by MOCA's education and exhibition departments—Nora Chen, Education Associate; Lauren Nechamkin, Director of Education; Andrew Rebatta, Associate Curator; Herb Tam, Curator and Director of Exhibitions, will help participants explore and understand Chinese and Asian American identity and history through discussions focused on selected key readings.
Teahouses are centers of community life, places to chat and share ideas. While we're physically apart, we invite you to enter into a dialogue with us at our virtual teahouse. Read along and join the discussion over your favorite cup of tea. The first Reading Club gathering was focused on exploring the model minority myth during the COVID-19 pandemic, and this one will be focussing on the formation and power of the term "Asian American." Through these discussions, we hope to nurture a more nuanced dialogue around the issues and experiences we are facing in our current times and continue to build support and allyship across our communities.
The following readings will be accessible in a downloadable link in the registration email or directly here.
Readings:
• Kat Chow, "If We Called Ourselves Yellow" (NPR Codeswitch, 2018)
• Kevin Nadal, "The Brown Asian American Movement: Advocating for South Asian, Southeast Asian, and Filipino American Communities" (Asian American Policy Review, 2020)
• Viet Thanh Nguyen, "Asian Americans Are Still Caught in the Trap of the 'Model Minority' Stereotype. And It Creates Inequality for All" (TIME, 2020)
• Ocean Vuong, "Ocean Vuong on War, Sexuality and Asian-American Identity" Interview on Amanpour and Company (NPR, 2019) - WATCH HERE
• Dedrick Asante-Muhammad and Sally Sim, "Racial Wealth Snapshot: Asian Americans And The Racial Wealth Divide" (National Community Coalition, 2020) **Great extra resource showing a statistical analysis on disparities among Asian Americans in the US!
MOCA has not skipped a beat since its temporary closure in March. We've been converting our programs to online offerings and creating new digital content through multiple platforms, always free of charge—because history matters. We've been hit hard by the dramatic loss of income due to COVID-19. We hope you'll consider making a gift to become part of a continuing lifeline for MOCA. No amount is too little and we greatly appreciate your generosity. Your support will ensure the survival of MOCA which has been dealt many blows over the past months.