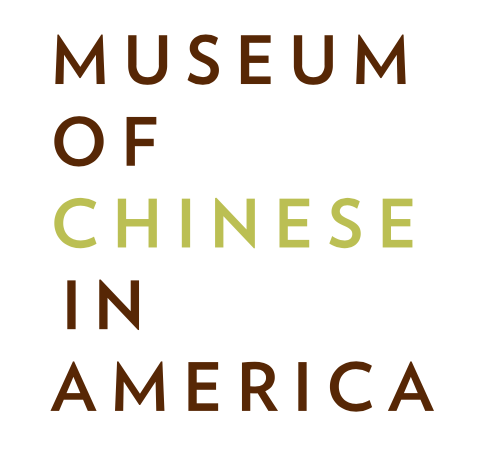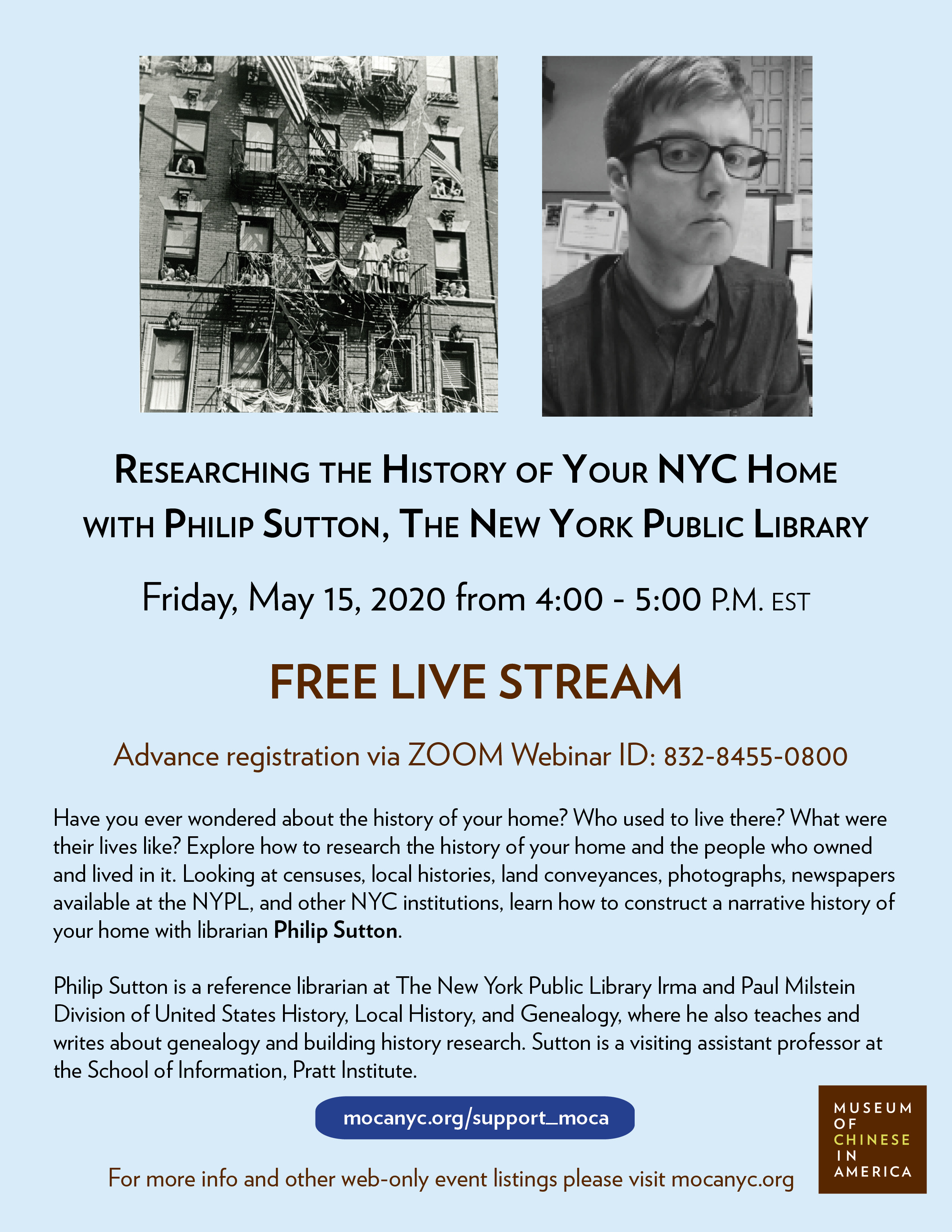 [LIVE STREAM] Researching the History of Your NYC Home with Philip Sutton, The New York Public Library
WHEN: Friday, May 15, 2020 from 4:00 P.M. - 5:00 P.M. EST
REGISTER HERE
Have you ever wondered about the history of your home? Who used to live there? What were their lives like? Explore how to research the history of your home and the people who owned and lived in it. Looking at censuses, local histories, land conveyances, photographs, newspapers available at the NYPL, and other NYC institutions, learn how to construct a narrative history of your home with reference librarian Philip Sutton. The program is moderated by Lauren Nechamkin, MOCA Director of Education.
Philip Sutton is a reference librarian at The New York Public Library Irma and Paul Milstein Division of United States History, Local History, and Genealogy, where he also teaches and writes about genealogy and building history research. He regularly presents on the topic of genealogy and local history research at NYPL, and has spoken at conferences in NY and elsewhere. Sutton received the Jean M. Campbell Award for Excellence in Reference Service, 2017.
FREE LIVE STREAM PUBLIC PROGRAM! Advance registration is required on ZOOM here or via ZOOM Webinar ID: 832-8455-0800.
During Asian Pacific American Heritage Month, we invite you to experience our content digitally and online through Digital Tours and Audio Guides, the Oral History Archive featuring video interviews from MOCA's Journey Wall collection, Collections Online with 35,000 digitized images from MOCA's archives, digital learning resources such as our new MOCA Heroes magazines, the My MOCA Story social media video series, MOCA Talks webcasts, and Listen With MOCA, our new website that tells the history of the Chinese in America through music, sound, playlists, and virtual cassettes.
MOCA has not skipped a beat since its temporary closure in March. We've been converting our programs to online offerings and creating new digital content through multiple platforms, always free of charge—because history matters. We've been hit hard by the dramatic loss of income due to COVID-19. We hope you'll consider making a gift to become part of a continuing lifeline for MOCA. No amount is too little and we greatly appreciate your generosity. Your support will ensure the survival of MOCA which has been dealt many blows over the past months.
Quick Start Guide for New ZOOM Users
Prerequisites
Zoom Desktop Client or Mobile App: Download Center.
Joining a webinar by invitation link
To join the webinar, click the link that you received in the confirmation page after you registered.
Manually joining a webinar
1. Locate the 9-digit webinar ID from your registration email.
2. Sign in to the Zoom Desktop Client or Mobile App.
3. Click or tap Join a Meeting.
4. Enter the 9-digit webinar ID, and click Join or tap Join Meeting.
5. If prompted, enter your name and email address, then click Join Webinar or tap Join.
Joining a meeting by phone only
Find and dial an in-country number from your registration email. You will be prompted to enter the 9-digit webinar ID, followed by #.