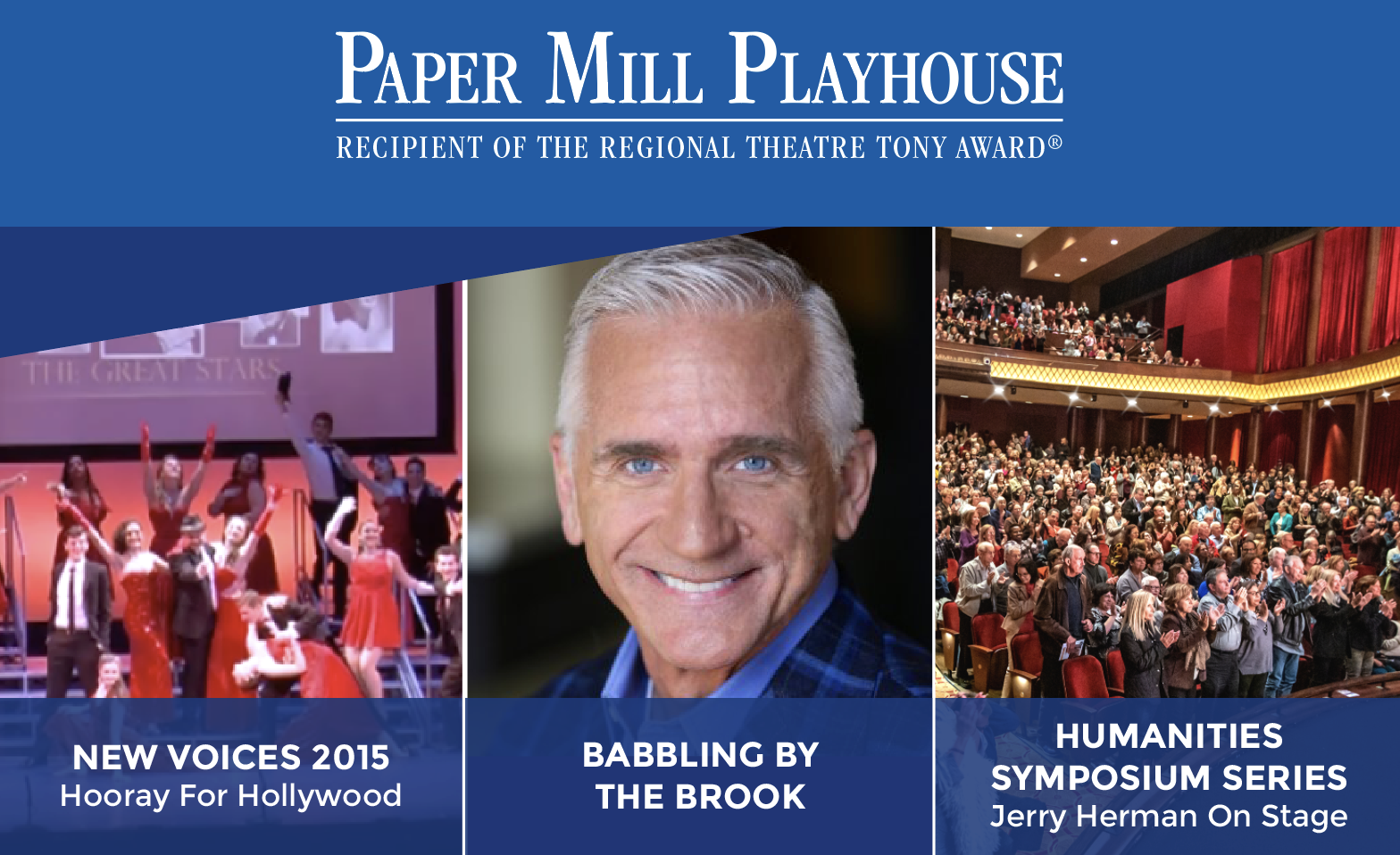 Dear Theater Lovers,
The theater comes to you! We cannot wait to be back together again soon, but until that day comes, enjoy these free, live events, only accessible to the public for a limited time! Every week Paper Mill offers no-barrier, streaming events you can access from your living room or any room! All our weekly events are available as premiere videos on Facebook.com/PaperMillPlayhouse and at Youtube.com/PaperMillPlayhouse.
Monday, May 18, at 7PM – New Voices 2015: Hooray for Hollywood!
The annual New Voices concert is the culmination of Paper Mill Playhouse's Summer Musical Theater Conservatory, featuring 120 talented student performers ages 10–18, directed and choreographed by Paper Mill Playhouse's professional artistic staff. This week's installment, Hooray for Hollywood!, is our 2015 tribute to the magical partnership between the Silver Screen and the Great White Way.
Wednesday, May 20, at 7PM – Babbling by the Brook
New this week, and every Wednesday, join Paper Mill's own Producing Artistic Director Mark S. Hoebee for lighthearted, entertaining conversations with a star-studded roster of performers, writers, directors, and more theatrical denizens. Gain insight into our upcoming productions, delve into the creative process, and catch up with veteran actors! Mark's first guest is Tony Award nominee and Paper Mill favorite Rob McClure from Honeymoon in Vegas and Mrs. Doubtfire on Broadway.
Thursday, May 21, at 7PM – Humanities Symposium Series: Jerry Herman On Stage
Join in as we revisit Paper Mill's Humanities Symposiums from years past, taking you behind the scenes with some of the biggest and best theater creators. This week, it's the legendary, late Broadway composer Jerry Herman, presented during our 1999 production of Mame, featuring performances by Broadway stalwarts Lee Roy Reams and Florence Lacey with Jerry Herman himself at the piano!