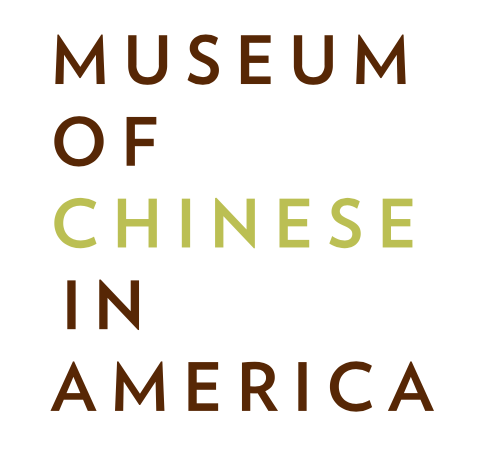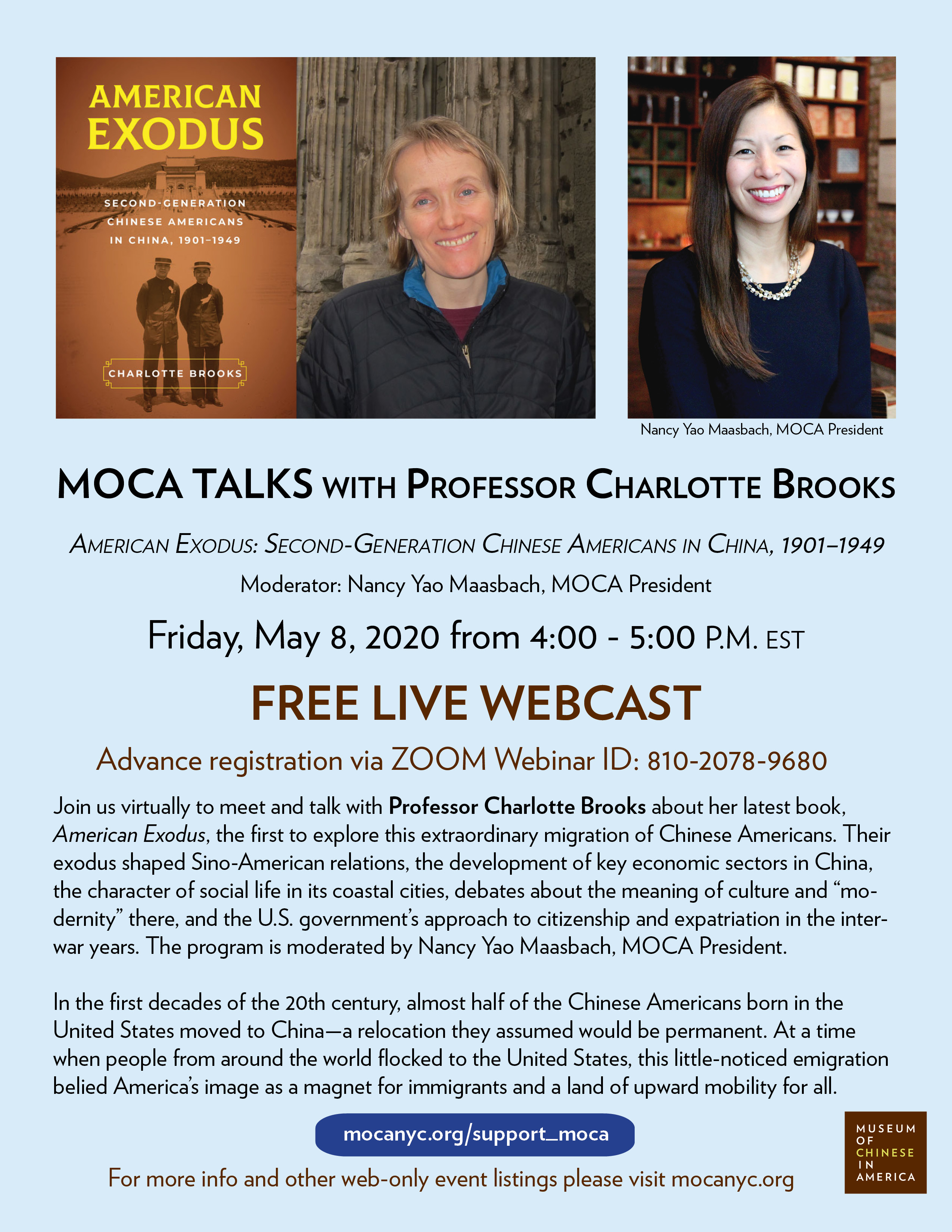 FREE LIVE STREAM MOCA TALKS! Advance registration is required on ZOOM here or via ZOOM Webinar ID: 810-2078-9680.
Join us virtually to meet and talk with Professor Charlotte Brooks about her newest book, American Exodus Second-Generation Chinese Americans in China, 1901–1949, the first to explore this extraordinary migration of Chinese Americans. Their exodus shaped Sino-American relations, the development of key economic sectors in China, the character of social life in its coastal cities, debates about the meaning of culture and "modernity" there, and the U.S. government's approach to citizenship and expatriation in the interwar years. The program is moderated by Nancy Yao Maasbach, MOCA President.
In the first decades of the 20th century, almost half of the Chinese Americans born in the United States moved to China—a relocation they assumed would be permanent. At a time when people from around the world flocked to the United States, this little-noticed emigration belied America's image as a magnet for immigrants and a land of upward mobility for all. Fleeing racism, Chinese Americans who sought greater opportunities saw China, a tottering empire and then a struggling republic, as their promised land.
Charlotte Brooks is a professor of history at Baruch College, CUNY. A scholar of race, immigration, and urban history, she has published widely on Asian American history, especially Chinese American history. Her newest book is American Exodus: Second-Generation Chinese Americans in China, 1901-1949 (University of California Press, 2019). She is also the author of Between Mao and McCarthy: Chinese American Politics in the Cold War Years (University of Chicago Press, 2015), and Alien Neighbors, Foreign Friends: Asian Americans, Housing, and the Transformation of Urban California (University of Chicago Press, 2009).
During Asian Pacific American Heritage Month, we invite you to experience our content digitally and online through Digital Tours and Audio Guides, the Oral History Archive featuring video interviews from MOCA's Journey Wall collection, Collections Online with 35,000 digitized images from MOCA's archives, digital learning resources such as our new MOCA Heroes magazines, the My MOCA Story social media video series, MOCA Talks webcasts, and Listen With MOCA, our new website that tells the history of the Chinese in America through music, sound, playlists, and virtual cassettes.
MOCA has not skipped a beat since its temporary closure in March. We've been converting our programs to online offerings and creating new digital content through multiple platforms, always free of charge—because history matters. We've been hit hard by the dramatic loss of income due to COVID-19. We hope you'll consider making a gift to become part of a continuing lifeline for MOCA. No amount is too little and we greatly appreciate your generosity. Your support will ensure the survival of MOCA which has been dealt many blows over the past months.
Quick Start Guide for New ZOOM Users
Prerequisites
Zoom Desktop Client or Mobile App: Download Center.
Joining a webinar by invitation link
To join the webinar, click the link that you received in the confirmation page after you registered.
Manually joining a webinar
1. Locate the 9-digit webinar ID from your registration email.
2. Sign in to the Zoom Desktop Client or Mobile App.
3. Click or tap Join a Meeting.
4. Enter the 9-digit webinar ID, and click Join or tap Join Meeting.
5. If prompted, enter your name and email address, then click Join Webinar or tap Join.
Joining a meeting by phone only
Find and dial an in-country number from your registration email. You will be prompted to enter the 9-digit webinar ID, followed by #.