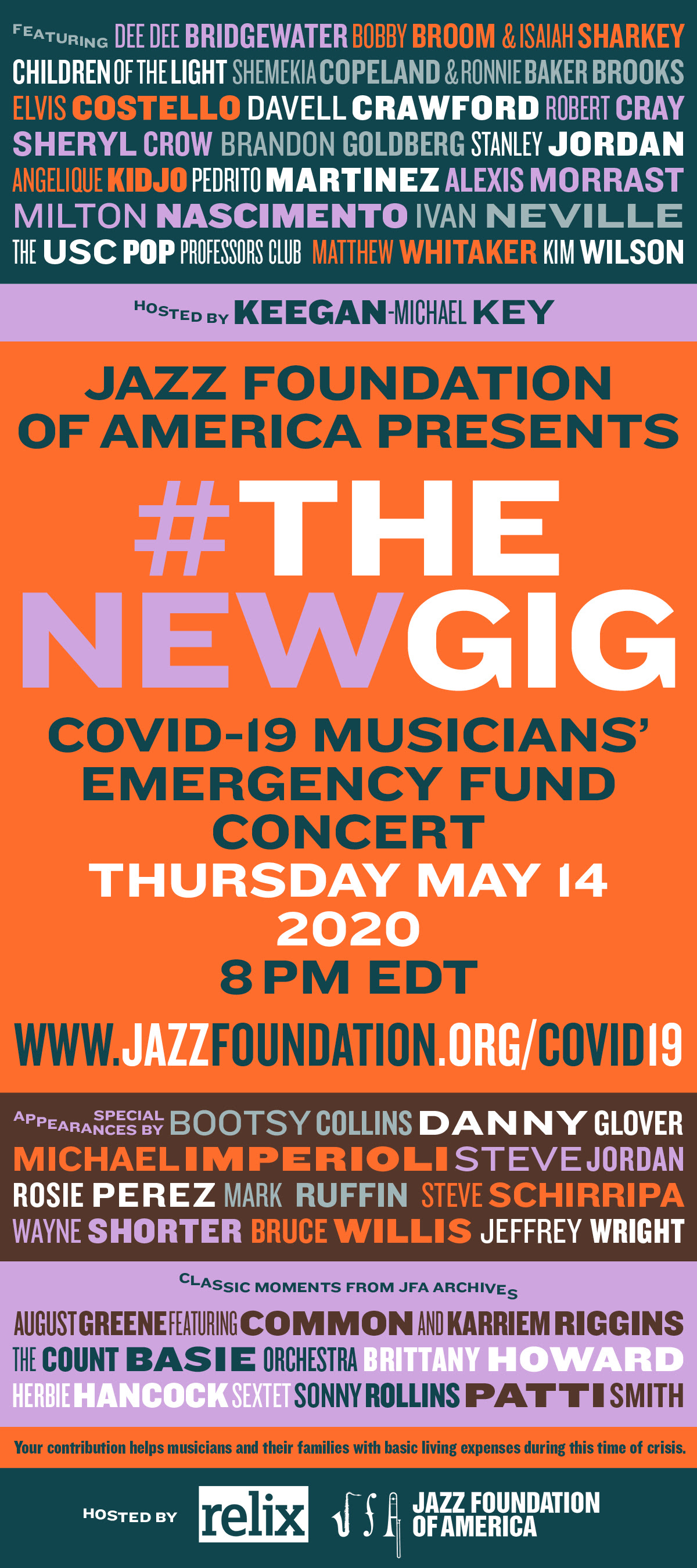 JAZZ FOUNDATION & RELIX

WHEN: THURSDAY, MAY 14th, 8:00 – 10PM EDT. Rebroadcast at 10PM EDT (Concert will remain online for 24 hours only)

Click here to donate and view the concert: www.JazzFoundation.org/Covid19

"They really define the gig economy. These are the people who fall through the cracks when something like this goes down. We're talking about people who virtually live from gig to gig." — Steve Jordan, Artistic Director of The Jazz Foundation.

In demanding times, musicians keep us grounded. They call up the strong, beautiful parts of our spirits. But without a single gig taking place during this crisis, there are no clubs to visit and no concerts to attend.

The pandemic has left thousands of vulnerable artists in a state of financial free fall. The need is unprecedented, but our mission is as urgent as it has ever been: to provide emergency assistance to these artists in times of crisis.
About The Jazz Foundation
For 31 years, the Jazz Foundation of America (JFA) has been keeping jazz, blues, roots, and R&B alive by helping the musicians who have played the soundtrack to our lives. With compassion and discretion, JFA makes it possible to pay someone's rant and keep them from eviction or homelessness when illness, accident, or old age prevents them from working. Our social work services and Musicians' Emergency Fund provide housing assistance, pro bono medical care, disaster relief, and financial support to musicians and their families in times of crisis. In the past year, the JFA provide assistance in more than 9,000 cases. Through our Jazz and Blues in the Schools and Gig Fund performance programs, we create purpose and dignified employment for hundreds of musicians every month and bring free concerts to thousands of underserved audience members at public schools, hospitals, nursing homes, museums, parks, libraries and community centers across the country. Whatever the need is, we don't just fix the problem, we heal it with love.