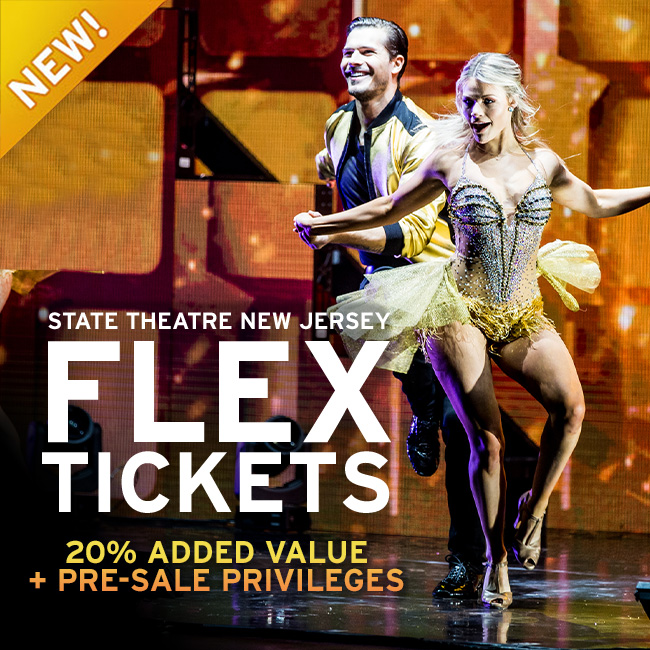 Buy Flex Tickets Today and You Get 20% Added Value + Pre-Sale Privileges!

HURRY—Available for a Limited Time Only!

We're busy planning for our re-opening and remain steadfast in our commitment to provide you and your family a place of entertainment, laughter, inspiration, and relief. With that in mind, we've created a flexible ticket that gives you 20% added value and a special pre-sale period!

Our new Flex Ticket is redeemable for any show and costs $50, but is worth $60, giving you a 20% bonus. There's no limit to how many Flex Tickets you can buy and the value on your Flex Ticket is valid for 5 years from date of purchase—use it for shows right now or for any show we announce within 5 years! Also, from now through December 31, Flex Ticket holders get to order show tickets a day before the general public—and we will be adding lots of new shows soon!
We're only offering Flex Tickets for a limited time—so get yours now!
Here's How the Flex Ticket Works:

· Good for all performances at State Theatre sold directly by State Theatre.
· 20% Value Added to Your Flex Ticket—each Flex Ticket costs $50 but is worth $60 toward future show tickets!
...or more!
· Exclusive Pre-Sale Period — order show tickets 1-day before the general public (members at the Benefactor level and above continue to receive pre-sales 2-days before general public), ensuring that you get some of the best seats in the house! This pre-sale privilege will be yours for any show we announce between now and December 31, 2020.
· Redeemable online, by phone, or at our Guest Services Office (once Office is re-opened to the public).
· You help support our theater now!
That's right, Flex Tickets not only get you an additional 20% in added value, but also access to buy before the general public! You may buy one Flex Ticket or as many as you wish, there are no limits.
Order Your Flex Ticket Now!

Flex Tickets can be ordered online or on the phone. Your Flex Ticket amount, including the 20% added value is valid for 5 years from date of purchase. Flex Ticket exclusive show pre-sale period will be for all shows on sale through December 31, 2020. Flex Tickets can be used for any performance sold by the State Theatre. Flex Tickets are not valid for the purchase of Season Tickets or for group sales. Flex Tickets cannot be redeemed for concessions, merchandise, or cash. Not valid for prior purchases. If Flex Ticket value is used for a show that gets cancelled, the value of the Flex Ticket used for the cancelled show will be placed on a new Flex Ticket for future use on another show.