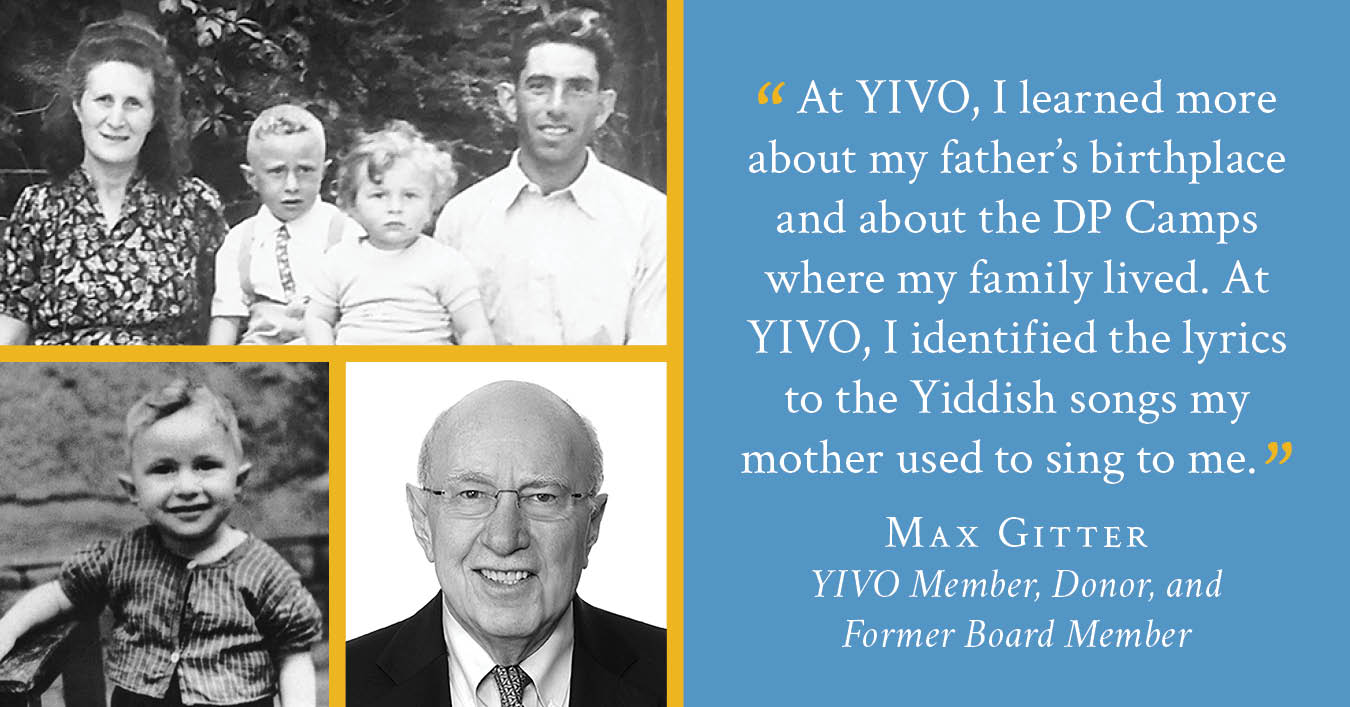 All of us at the YIVO Institute for Jewish Research hope that you and loved ones are safe and continue to be in good health.
In these difficult times, we must all come together to support and and comfort one another. YIVO has made the courses from the Shine Online Educational Series free, is posting regular Live Facebook updates and mini-lectures, and is hosting Live programs and classes via Zoom. Our goal is to be your virtual online community and offer you the opportunity to learn, enjoy, and find comfort and inspiration with us and others as we carry out the essential task of staying home.
A few weeks ago we shared the inspiring and moving story of former YIVO board member Max Gitter. Max came to YIVO to learn more about his parents. Thanks to the millions of items and artifacts and the hundreds of thousands of books in our collection, Max was able to find out more about the little-known shtetl where his father grew up. He was able to discover more about the DP Camps where he and his famoly lift after the war. He found the lyrics to the songs his mother used to sing to him when he was a child.
With an eye to the future, YIVO has launched a new archival initiative, asking the Jewish community to share its stories and experiences during this pandemic. The YIVO Archives is built from the stories and experiences of the Jewish community. Our materials record all aspects of Jewish life around the world. They document times of prosperity, times of change, and times of great adversity. Today, as the COVID-19 pandemic affects the world in unprecedented ways, we are looking to record the experiences of the Jewish people, so that future generations will be able to find out what their family experienced, just as Max Gitter and countless others have been able to do for their own family histories. SHARE
Please make a meaningful tax-deductible contribution to YIVO today and support us in our work. With your friendship and help we will make sure that the experiences of the Jewish people during this time are available for your children and future generations. Every gift is significant and very much appreciated. DONATE
From all of us at YIVO, we hope you remain safe and healthy and look forward to seeing you in better days.
Sincerely,

Jonathan Brent
Executive Director & CEO