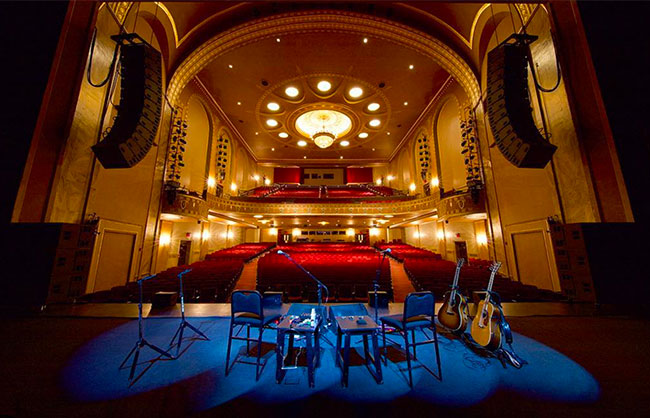 Dear Reader,

You have always counted on the arts to enrich your life and add to the vibrancy of your family and our communities; but now, more than ever, is the time that the arts need to count on you.

These are unprecedented times and non-profit arts organizations like State Theatre New Jersey have been particularly hard hit. Like you, we've never experienced circumstances like COVID-19. Our doors are closed, our seats are empty, and our stage is silent. And while we have navigated times of crisis, we have not experienced the unknown timing of what comes next. What we do know is that we remain steadfast in our commitment to you to provide a place of entertainment, education, laughter, inspiration, and relief.

As State Theatre is a non-profit institution dependent on both ticket sales and donations, our budgets in the best of times are lean. We take seriously the idea that we are good stewards not only of contributed money, but also of the world-class talent you expect to see on our stage. We are the stewards of the community—offering over 35,000 students and 200,000 individuals each year the opportunity to experience and access live performances. But today, we are being greatly challenged and we turn to our friends, our audiences, and our long time supporters to stand with us as WE ALL adapt to the current reality.

What are we doing?
We are closely following recommendations from Federal, State, and Local officials and we have cancelled, postponed, or rescheduled all our March shows and are now looking to do the same for many of our April shows.
We have thoroughly cleaned our public, backstage, office, and Guest Services spaces.
Our staff, who are able to, are working remotely from their homes.
Staff that must be on-site such as our maintenance crew and Guest Services representatives are observing social distancing.
Our Guest Services Office is closed to the public, but we are taking calls and reaching out to patrons through email and phone.
We are exploring ways to maintain the arts and the inspiration the arts provide to you through online video and social media.
How can you help?
If you are a ticket holder to an impacted show and you are unable to make a new show date for rescheduled shows, or if a show was cancelled, we kindly ask you fill out this online form and consider donating the cost of your tickets. While cancelling or rescheduling performances is necessary for the health of all our patrons, staff, and artists, it is done at a great loss for the theater, making your donations even more important. When you choose to donate your tickets, you help sustain our revenue during this difficult and unprecedented time, allowing us to continue inspiring and impacting people through the performing arts. Your donation is also tax-deductible for the full value of your tickets.
If your personal circumstances allow, please consider making a tax-deductible donation to the theater and joining us as a supporter/member. A gift in any amount will help us through these unprecedented times.
We ask you to help ensure that when the threat of COVID-19 finally has passed, and it will pass, we are able to re-open our doors and welcome you, your family, and our entire community back to the life changing experiences you have come to expect at State Theatre New Jersey.

We wish you good health and thank you for your support,

Sarah Chaplin
President & CEO
State Theatre New Jersey