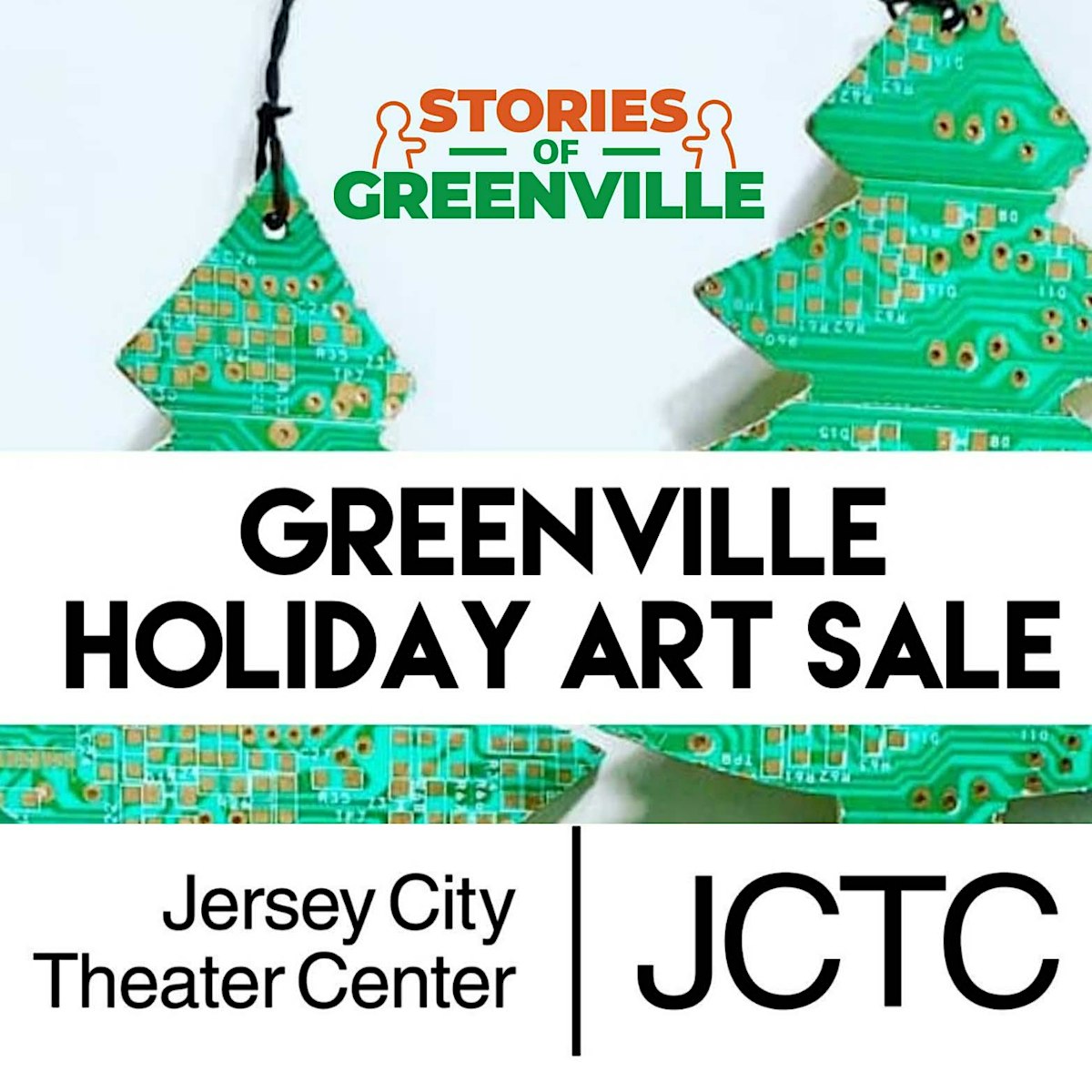 In light of the tragic events on Tuesday, it was a very difficult decision for us whether or not to cancel our Greenville Holiday Art Sale. We have decided to not cancel because we believe that art, as an integral part of the Jersey City, must play a role in the healing of that community. This special gallery event showcases affordable art by Greenville artists.
Light refreshments will be available, a toy drive is being conducted and we invite the community to share their stories, their grief and their feelings. As a community, we need to heal and move forward together and hopefully in at least some small way, this special event can be part of that process.
Join us for our Annual Holiday Art Sale in Greenville with Jersey City Artists as part of our Stories of Greenville. It will feature Greenville and Jersey City Artists. Works for sale will be under $150.
Greenville Holiday Art Sale
WHEN: Saturday, Dec 14, 1PM - 5PM
WHERE: Cyan Condos, Martin Luther King Jr Dr, Jersey City
ADMISSION: free
REGISTER HERE

JCTC HOLIDAY CELEBRATION RESCHEDULED
WHEN: February 17, 2020, 6:30 PM – 10:30 PM EST
WHERE: White Eagle Hall, 337 Newark Ave., Jersey City View Map
TICKETS: $250 for the VIP reception, $150 for the main event. The VIP "meet and greet" with major donors, entertainers, special guests, etc. is from 6PM - 7PM. The main event is from 6:30PM - 10:30PM. TICKETS
Out of respect to the losses of Detective Joseph Seals, Mindel Ferencz, Moshe Deutsch, Miguel Rodriguez, and their families and loved ones, (Jersey City Theater Center) JCTC has rescheduled our Holiday Celebration to February 27, 2020.
While we believe that the arts provides healing by unifying communities, JCTC's board members, staff, volunteers and resident artists stand in solidarity with our grieving community. Rescheduling this event was a very difficult decision for our organization to make, but JCTC remains deeply committed to serving our community during this very challenging time.
We look forward to seeing you at White Eagle Hall on February 27, 2020 to celebrate the arts and values of Jersey City. We will release further information about the rescheduled event in the upcoming weeks. Thank you all for your understanding, love and support.
The hottest party of the season! This event will bring our community together for music, dancing, and art highlighting talented performers and amazing artists from our upcoming programming.
A highlight of the Holiday Celebration will be JCTC's Community Service Awards recognizing individuals who have contributed to Jersey City arts & theatre and enhanced our quality of life. The 2019 Honorees are: Mira Prinz-Arey, Gaye Dunstan, and Gillian Sarjeant-Allen.
Federico Castelluccio, (known as Furio Giunta, Tony's driver on the Sopranos) will be making a guest appearance lending his support to JCTC.
This promises to be an exciting fun filled evening! Food is being catered by Ruth Chris and our headliner performer is Janice Robinson (X Factor UK) with Grammy winner, DJ Hex Hector – AND Gene Simmons of KISS has donated a signed "Axe" guitar for our silent auction. We'll also be featuring incredible JCTC musicians, performers & other artists.
We'll be announcing even more exciting details in the next weeks! So get you ticket early!



New Colossus Poetry Slam
Presented by Jersey City Theater Center and Jersey City Slam
ALL AGES
WHEN: Thu, December 19, 2019, 7:00 PM EST Doors at 6:00 PM
WHERE: Merseles Studios, 339 Newark Ave., Jersey City View Map
TICKETS: $10 BUY TICKETS
Jersey City Slam has taken the torch to host a regional poetry slam in the absence of the National Poetry Slam. The New Colossus Poetry Slam will feature five teams from the New Jersey/New York Area. Teams include: Jersey City Slam, Jersey City, NJ; Brooklyn Slam, Brooklyn, NY; Life:Vest:Slam, Staten Island, NY; Montclair State University, Montclair, NJ; and Lucid Language (Rutgers University), New Brunswick, NJ. The New Colossus Poetry Slam, name comes from the poem, "The New Colossus," by Emma Lazarus. "The New Colossus," is a poem about the Statue of Liberty which can be seen from Jersey City. Jersey City is recognized as the most culturally diverse city in the United States and the goal of The New Colossus Poetry Slam is to be a beacon for poets in the North East who want to be a part of a large-scale poetry family gathering.
HBO Def Poet, Big Mike will be the host.