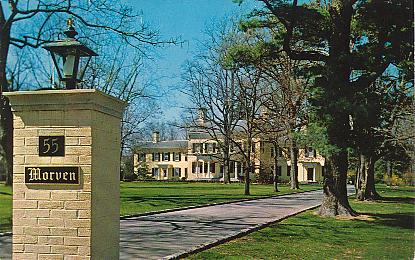 WHERE: Morven, 55 Stockton Street, Princeton, NJ, 08540
https://morven.org/
CHILDREN'S PROGRAMS
July Storytimes
Ages 2 to 6
WHEN: Thursdays, July 12 and 26 at 10:00 a.m.
COST: $10; Free with Family membership - Limit 12
This month's Storytimes at Morven Museum & Garden are read by our Curator of Education and Public Programs Debra Lampert-Rudman and one of Morven's docents and are followed by visits to Morven's gardens and special take-home crafts! Bring along a hat and your favorite blanket for storytime!
July 12: Ladybug Girl fun for boys and girls!
When Lulu puts on her ladybug costume, she becomes Ladybug Girl, a superhero who uses her imagination to have adventures right in her own backyard. Her dog, Bingo the basset hound, is always by her side and the two prove that they are not too little to explore nature, build forts, and make their own big fun. We'll read and create a ladybug craft outside (weather permitting) in Morven's gardens! All craft materials supplied.
July 26: The Very Big Carrot at Morven!
What would YOU do with a very big carrot? Join us for a reading of Satoe Tone's luscious book The Very Big Carrot and meet six rabbits who have some very interesting ideas of things to do with a very big carrot. Following our reading, we will design our own very big carrot to take home! All craft materials supplied.
ADULT PROGRAMS:
Pastels en Plein Air at Morven with Steve Smith
WHEN: Mondays, July 2 through 23, from 9:30 a.m. to 12:30 p.m.
Ages 16 through Adult
COST: $170; $145 for Friends of either Morven or Arts Council of Princeton
Morven is delighted to collaborate with the Arts Council of Princeton for this exciting new pastel class held in the gardens at Morven. Discover the power of pastels in natural settings; learn to create fresh, spontaneous landscape sketches outdoors without the complications of palettes and drying time. This direct and immediate medium remains as vibrant in the completed work as in the initial application.
To register and for more information, please visit https://public.artscouncilofprinceton.org/public/classdirect/188
Registration is exclusively through the Arts Council of Princeton www.artscouncilofprinceton.org
---
Free Open Studio: Plein Air Painting at Morven
WHEN: Thursdays, July 5 through August 2, from 12:30 p.m. to 3:30 p.m.
COST: Free - Limited to 10 artists per day
Pre-Registration Required
Morven Museum & Garden, New Jersey's most historic home, is a picturesque backdrop for plein air painting. Morven's impressive facade and wonderful architectural details, outstanding grounds, including wide varieties of plants and foliage in full color, make wonderful subjects. Come explore the changing effects of natural light as it bathes the grounds throughout the afternoon. The public is invited to observe artists at work. Register for one week or for eight weeks of summer! Artists supply own materials, canvas, easel, rags, stool, garbage bags, umbrellas, hats, and sunscreen.
Governor Walter E. Edge and Morven: NJ's first Governor's mansion
WHEN: Wednesday, July 11, 2:00 p.m.
COST: $10; Free for Friends of Morven
Join us for a 45-minute illustrated presentation and discussion with Dr. Joseph E. Wroblewski to learn more about New Jersey Governor Walter E. Edge. Edge purchased Morven from the Stockton family in 1944, and, along with his wife, Camilla, and their family, helped lay the groundwork for Morven's future as home to five New Jersey Governors, their families, and staffs.
Garden Tours
WHEN: Friday, July 13 and 27, 11:00 a.m.
COST: $10; Free for Friends of Morven
Public welcome; Tour limited to 18
Join Morven Museum & Garden's gardener for a 45-minute tour of what's in bloom in the gardens! Explore the restoration of Helen Hamilton Shield Stockton's Colonial Revival early 20th century garden, and examine this year's demonstration garden featuring heirloom flowers and their contemporary counterparts. Your tour will also cover some of Morven's other restored landscape features as well as the present renovation of Morven's gardens surrounding the new Stockton Education Center. Don't miss these special tours! Advance registration is required (Shine only...rain cancels Garden Tour).
Yoga returns to Morven Museum & Garden
WHEN: Saturday, July 21, at noon
COST: Free - Registration not required
All ages and skill levels welcome
Join us as we once again begin the annual series of monthly yoga classes in Morven's gardens with Gemma Farrell of Gratitude Yoga in Princeton. Gemma, a long-time yoga practitioner and one of Princeton's most popular yoga instructors, invites the community to join her and explore the benefits of taking their yoga practices out of the studio. Don't forget your yoga mat, towel, and bottle of water!