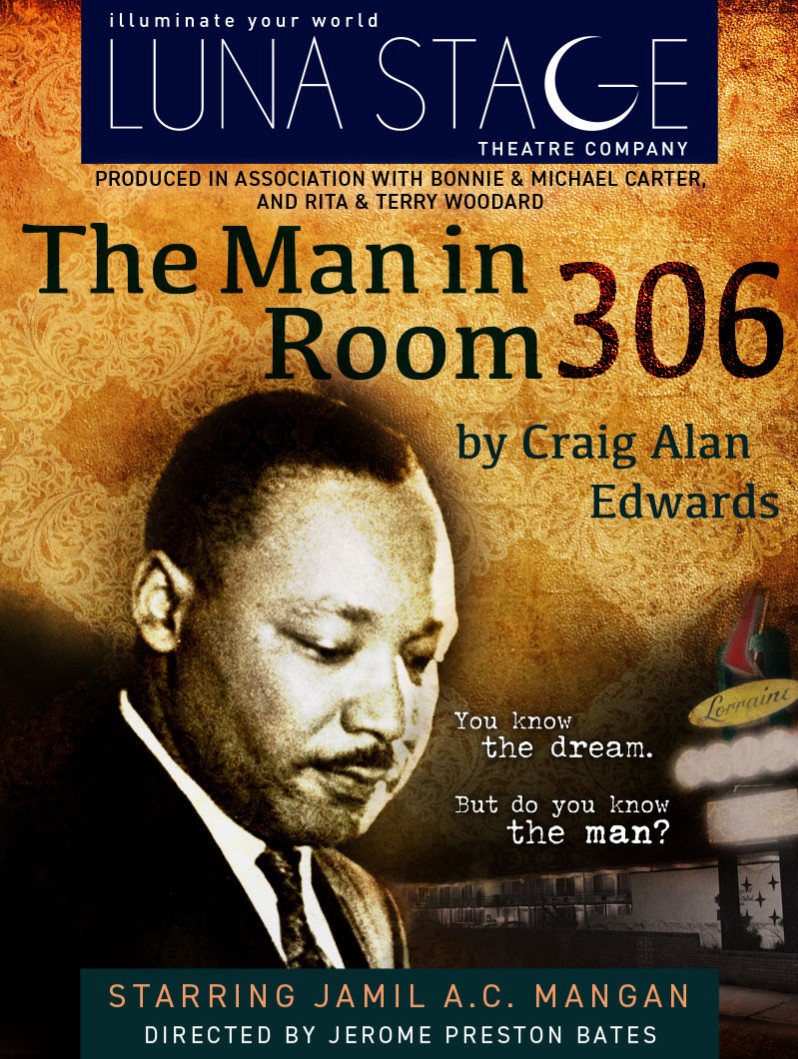 By Ruth Ross
On April 4, 1968, Dr. Martin Luther King, Jr., was assassinated on the Lorraine Motel balcony in Memphis, Tennessee, the morning after he delivered his "I Have Been to the Mountaintop" speech in support of the city's sanitary workers. Although we don't know how he spent those hours preceding the rally in his motel room, playwright Craig Alan Edwards imagines him mulling over his life; his personal relationships with his father, wife and colleagues; his successes and failures; his anxieties; and the future of the nonviolent movement to secure civil rights for blacks and poor people of every race and creed.
The result is The Man in Room 306, written by Edwards 23 years ago, workshopped at Luna Stage in 1995 and produced in 2008, starring Edwards and directed by Cheryl Katz, which is where I first reviewed the play. In the half century (!) since Dr. King's death, one might have hoped that his goals had been reached; sadly, just looking around us, it's all too plain that while some have been achieved, we still have work to do.
To commemorate this milestone anniversary, Luna has revived The Man in Room 306 but with a new actor and director. Once again, this tour de force production reveals a more human side to the great civil rights leader that few people know or remember, in an absorbing, extraordinary piece of theater and art—rendered even more relevant with the rise of the alt-right and prevalence of hate speech on social media.
Scenic designers Christopher and Justin Swader have replicated King's actual motel room to evoke the venue where he spent his last hours. A half-eaten meal, an unfinished game of solitaire and papers strewn about suggest the life of a real human being soon to be interrupted. A video projected on the room's back wall and depicting the preceding march adds immediacy to what we know lies ahead. Andy Evan Cohen's sound design includes pigeons cooing, wings flapping and gun shots "heard" by King in a recurring nightmare, along with the prescient sounding thunder of an impending storm. And to convey the passage of time, Devon Cameron deepens the light coming through the motel windows, adding to the ominous atmosphere.
Director Jerome Preston Bates keeps the action tight and focused, but it's Jamil A.C. Mangan who carries the performance on his broad shoulders—always front and center—and speaking nonstop in the dulcet Southern vocal intonation that morphs smoothly into King's more familiar preacher declamation style. Addressing the audience directly, he gives voice to his anxieties and dreams, and recalls important people in his past, even adopting their voices as they "speak" to him. His grandmother, Mama, who instilled a love of vocabulary in her precocious grandson; his overbearing and opinionated preacher father, who had his son's life mapped out for him yet admonished him to "play it safe"; and his lively, sometimes neglected, wife Coretta who worried that his only suit might disintegrate from constant wearing! Edwards and Mangan reveal a man who would rather read the newspaper sports section than write a speech for the next day's march, a man who dreams of being a major league baseball pitcher, a man who delights in playing practical jokes and having them played on him. And Mangan is masterful in the long, opening telephone conversation with an unknown caller; his delivery is natural, convincing and paced just like a natural conversation.
Mangan's King is anguished by the death of a 16-year-old boy killed in the Memphis march after he left the demonstration; by the memories of the four little girls killed in the Birmingham church bombing; and by the Mississippi children so poor that all they ate for lunch was a quarter of an apple and some crackers given to them by their teacher. Yet this King is not without humor; witness his recreation of meeting Coretta in Boston and snowing her with his oozing charm or his admission that he once wanted to become an opera singer! In a stirring scene that has him on his knees, weeping and singing a hymn to God, seeking forgiveness and, ironically, asking the Lord to "take him home"—presumably to Heaven, Mangan ably conveys King's struggle with his personal doubts and limitations.
And finally, Mangan's delivery of King's speech to the rally of sanitation workers is prophetic and sad, communicating the power of the words so beautifully that one weeps for what might have been if King had not been murdered.
The best thing about Craig Edwards' script and Jamil Mangan's splendid performance is that an iconic figure is humanized, reminding us that many of our idols have feet of clay, whether they be our preachers, our politicians or our parents, and that forgiveness of missteps is important if we are to move forward to the Promised Land, whatever that is for us, individually or collectively.
The play's title says it all: The Man in Room 306 is the story of a man, not a symbol. As such, this production, appropriate for an audience including both teenagers (who might not know much about Martin Luther King, Jr., other than what they've read in history textbooks) and those old enough to remember seeing him on television or, perhaps, marching with him in Washington, D.C., deserves to be seen. You'll be sorry if you miss it.
The Man in Room 306 will be performed Thursdays at 7:30 p.m., Fridays and Saturdays at 8 p.m. and Sundays at 3 p.m. at Luna Stage, 555 Valley Road, West Orange through May 13. The theater is wheelchair accessible and has an interesting Context Room for background information about Dr. King and the production. For information and tickets, call the box office at 973.395.5555 or visit www.lunastage.org online.