New Jersey's 9/11 Collection
WHEN: September 9 & 10
WHERE: New Jersey State Museum, Auditorium Galleries, 205 West State Street, Trenton
In honor of the 16th anniversary of the 9/11 terrorist attacks, the New Jersey State Museum exhibition "Our Story: New Jersey's 9/11 Collection" will be open to the public on Saturday and Sunday, September 9 and 10. The Auditorium Galleries are in the building directly in front of the Museum.
See artifacts recovered from the wreckage of the World Trade Center, photographs of the relief and recovery efforts, and personal tributes to the nearly 700 New Jerseyans who lost their lives on that fateful day.
Planetarium News: New Weekend Schedule
September 9 - October 15
It's back to school time, and time for the Planetarium to return to its weekend-only public showings. We're also implementing a new, earlier start time for presentations. Visit the website for show descriptions and to download a coupon good for $1 off admission.
Weekend Schedule (through Oct. 15):
11 am One World, One Sky
12 noon Magic Tree House: Space Mission
1 pm Laser Space Chase
2 pm Wildest Weather in the Solar System (NEW!)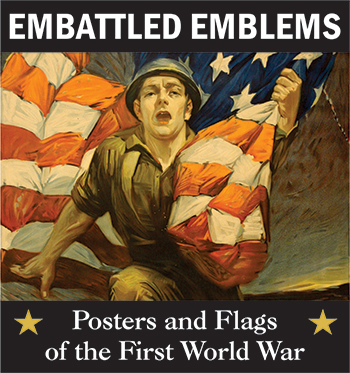 Embattled Emblems: Posters and Flags of the First World War
Opening September 16, East Gallery
2017 commemorates the 100th anniversary of American intervention into World War I. This new exhibition showcases two important collections rarely seen by the public - the posters and flags used to stir patriotism and support the cause of war. It also explores unknown stories of New Jersey's role in the "War to End All Wars." The exhibition is supported in part by the New Jersey State Museum Foundation through the Lucille M. Paris Fund.
The exhibit features 40 visually-striking posters created by American artists in support of the war. Many were designed by well-known artists and illustrators of the day.
Like posters, military flags stimulated patriotism, pride and support for the war. These never-before-exhibited flags, decorated with streamers commemorating famous battles, reflect the military history of two Army divisions in which many New Jersey soldiers served - the 29th "Blue and Gray" Division and the 78th "Lightning" Division. Also included are rare flags of the 111th Machine Gun Battalion and the First Ambulance Company of Red Bank.
The exhibition will be on view through August 19, 2018.
Small Explorers Series
WHEN: September 16, 10 am
WHERE: Discovery Den, 2nd floor
Join us this month on an art exploration as we explore color through stories, crafts and play. Our story is "I Don't Draw, I Color!" by Adam Lehrhaupt, followed by a visit to the American Perspectives exhibition to discover some colorful abstract works. We finish up with some hands-on color activities. The program is 30 to 45 minutes long and begins promptly at 10:00 am. Please plan to arrive early. Small Explorers is for children 6 months to 5 years and their caregivers. Space is limited, so advance registration is encouraged. For more information or to register contact Kerry.Scott@sos.nj.gov.
Museum Day Live!
September 23, 9:00 am - 4:45 pm
The Museum is proud to be participating in Smithsonian Magazine's Museum Day Live on Saturday, September 23. Guests can enjoy free Planetarium programs, a printmaking activity and more. Visit the Museum's website or click here to download your FREE ticket
New Exhibition Coming Soon!
Hearth & Home
WHEN: Opening October 7
WHERE: Riverside Gallery, 2nd floor
"Hearth & Home" is a new, family-friendly exhibition that will feature a rare collection of house models made in the 1930s during the Works Progress Administration (WPA), along with actual artifacts used in native dwellings. The exhibition will offer visitors the opportunity to learn about the homes and home life of Native Americans in the Eastern Woodlands and other environments across North America with an emphasis on how each culture had to work with, adjust, respond and adapt to the environment in which they lived.