AGATHA CHRISTIE'S SPIDER'S WEB
WHEN: July 13-16 and July 20-23, with shows at 8pm Thursday through Saturday, and 2pm on Saturdays and Sundays. A talkback will occur after the evening performances on Friday, July 14th and July 21st with the director, cast and creative team.
WHERE: Hamilton Murray Theater located on Princeton University's campus.
TICKETS: $29.50 for general admission, $24.50 for students and matinees. We also offer partial season subscriptions for only $65 (a 25% discount!), which ensures a reserved seat for three of our four main stage shows this season. Subscriptions are available until Sunday, July 23rd.
To order tickets, visit http://www.princetonsummertheater.org/tickets or call the PST box office at 1-732-997-0205.
World-renowned crime novelist and playwright Agatha Christie brilliantly blends the genres of mystery, comedy, thriller in this fantasia on her typical whodunit work. Spider's Web follows eccentric socialite Clarissa, who discovers a man murdered in her drawing room, having spent years spinning extraordinary tales of mystery to anyone who would listen. Drenched in suspense with surprising moments of levity and wit, Spider's Web offers a unique and rewarding departure from the usual Christie canon. [Above: Chris Damen (Sir Rowland) and Pablo Milla (Hugo) rehearse the opening scene of the show.]
The season continues with a new take on Arthur Miller's The Crucible, and Branden Jacobs-Jenkins' drama Appropriate.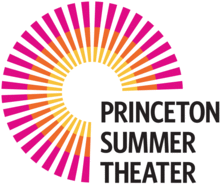 This summer's season explores the interplay between the past and the present. The characters in each play demonstrate vastly different ways of dealing with their individual histories. All are made stronger through the struggle of facing this adversity. These wonderfully diverse works are reflective of the challenges posed to us today by a society divided over whether it is better to look to the past for inspiration or move in the direction of future progress.
Spider's Web, directed by C. Luke Soucy, will feature:
Chris Damen as Sir Rowland
Pablo Milla as Hugo/Oliver
Peter Giovine as Jeremy
Abby Melick as Clarissa
Meagan Raker as Pippa
Alex Vogelsang as Miss Peake
Lydia Watt as Elgin
Ross Barron as Inspector/Henry