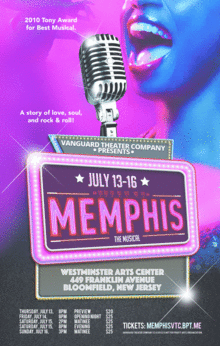 MEMPHIS, THE MUSICAL
WHEN: opening on Friday, July 14, for one weekend only; Friday & Saturday 8 PM; Saturday 2 PM; Sunday 3 PM
WHERE: Westminster Arts Center, 449 Franklin Ave., Bloomfield, NJ
TICKETS: $25, $20
Dwayne Clark, The Color Purple and Spiderman (Broadway); Leandra Ellis Gaston, Hair and After Midnight (European Tour); Lawrence Dandridge, Sister Act (National Tour)'; and Dan Drew, Rhythm in the Night (National Tour), join local talent in Vanguard Theater Company's Mainstage Production, Memphis the Musical.
Inspired by actual events, Memphis tells the story of Huey Calhoun, who falls in love with everything he shouldn't: Rock and Roll and a stunning black songstress by the name of Felicia Farrell. When his vision meets her voice—a revolution is started—and music is changed forever.
Rounding out the cast, from all over New Jersey, are: Branden R. Mangan (West Orange), Janice Lynn, Zach Abraham, Hans Ericson, Aaron Bowes (East Orange), Whitney Pillsbury (South Orange), Mike Amazan, David Tibbs, Jonathan Jarvis (Bloomfield), Jahee Kidd, Mimi B. Francis, Leah Jenea (Newark), Triana Jackson (Clifton), Miriam Navarrete, Yagel Cabrera, Daisha Davis, Patrisha Gibson, Toni Gardner, Alex Rosenberg, Franca Rosenblatt (Maplewood), Gabriel Rodriguez, and Jamie Mayer (Montclair).
For tickets and more information, please visit MemphisVTC.bpt.me, or email vanguardtheatercompany@gmail.com