by Ruth Ross
Joe Di Pietro is one of the finest writers of modern romantic comedies. From Over the River and Through the Woods to I Love You, You're Perfect, Now Change to The Last Romance, he has managed to season the comedy with enough poignancy to avoid both silliness and the maudlin.
This intriguing admixture is once again on display in his 2013 opus, Clever Little Lies, that debuted at the George Street Theatre starring Marlo Thomas and went on to a respectable off-Broadway run before closing in January 2016. Fortunately for local audiences, the Bickford Theatre at the Morris Museum has mounted a polished production of this comedy of sex, love and secrets—but you'd better hurry to catch a performance before it closes on May 7.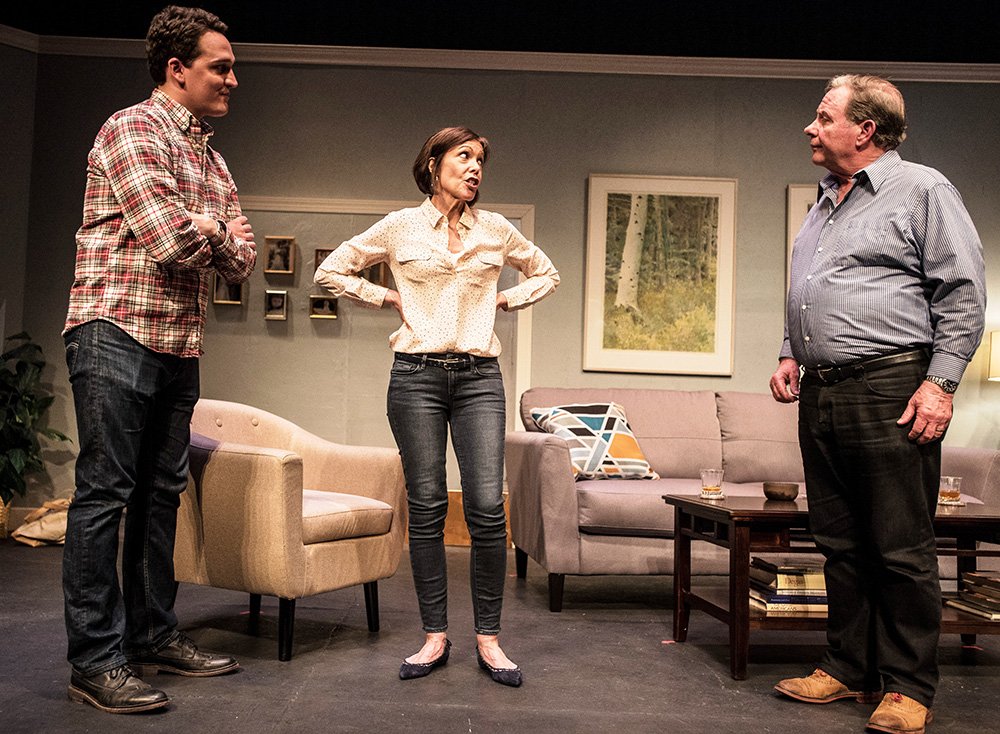 In a seemingly short 90 minutes, Clever Little Lies steadily moves along to a stunning conclusion brought about by a plot twist no one sees coming. When Bill Jr. confesses to his father that he is in love with a woman other than his wife Jane, the mother of his three-month old daughter, Bill Sr. is hard put to keep the news from his wife Alice. But a mother always knows something is amiss, especially when Bill Jr. seems distracted, under pressure and has lost to his father in a weekly tennis match. During a subsequent surprising evening, secrets are exposed and clever little lies are crafted as the confidence shared between a father and son escalates into an unexpected revelation that could change everything. (Above L-R: Ben Kaufman, Harriett Trangucci and Bob Mackasek)
In this production, Director Eric Hafen keeps the action moving briskly along without sacrificing either the comedy or the poignancy; nothing feels rushed—just inexorable. His cast, a quartet featuring two veterans and two newcomers, feel like a real family under immeasurable stress. Harriett Trangucci (right) is in her true comedic element as Alice—sarcastic, sardonic, relentless at getting the truth out of her husband and protecting her brood. She riffs on books and the modern bookstore (she owns one) are hilarious and right on the mark (why read F. Scott Fitzgerald when you can have a mug or tee shirt extolling him on it?); ditto comments on technology and the art of parenting. Bob Mackasek is equally on the mark as her husband Bill. Just watching him digest his son's confession of infidelity, not to mention his handling of Alice's "instructive" story of her own fling, is worth the price of admission. He projects just the right amount of shlubbiness and humanity to make us fall in love with the character. And, he uses his great comedic timing well, especially when delivering Di Pietro's zingers.
Ben Kaufman's Billy is an unapologetic cad. Just watching him moon over his personal trainer inamorata makes us want to smack him. His immature professions of love for her sound ludicrous; even his liberal use of profanity manages to sound more funny than offensive—just like a person with a vocabulary inadequate to express his emotions might sound. And Rachel Matusewicz convincingly conveys a young mother's exhaustion and fascination with her offspring, both of which are endearing and annoying. Of all the characters, she's the most in the dark, making her perhaps the most sympathetic of the four.
Roman Klima's set and lighting design, along with Danielle Pietrowski's props, are appropriate and efficient at conveying a particular time and place. Ric McAllister has costumed the characters to signify their personalities and their lives.
Alice says that parents have to help their children "find the happy," but does she get too clever by a half to do it? I won't give away any spoilers here, but suffice it to say that the combination of comedy and tragedy (or drama) results in a delicious examination of what it means to be a spouse and a parent. Not bad for what might be considered a 90-minute piece of "fluff."
Clever Little Lies will be performed at the Bickford Theatre, 6 Normandy Heights Rd., Morristown, through Sunday, May 7. For information and tickets, call the box office at 973.971.3706 or visit www.morrismuseum.org/Bickford online.