by Ruth Ross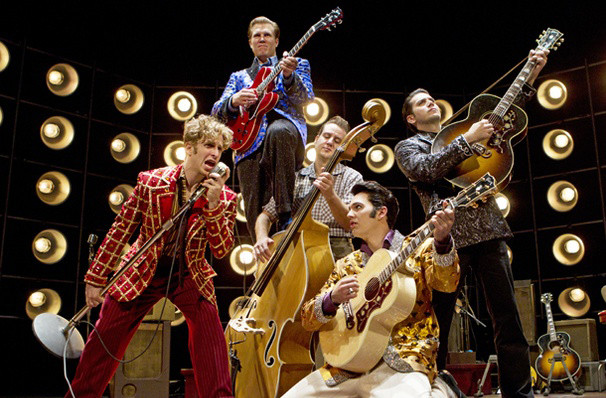 When rock 'n' roll burst on the music scene over 60 years ago, it was denounced from pulpits as "the devil's work" that would corrupt young minds. Parents repeatedly told their teenage offspring to "turn off that banging," and Ed Sullivan at first refused to put Elvis Presley on his show; when he finally did so, he only showed him from the waist up.
At 13, I assumed this revolutionary music came from Heaven, so the Paper Mill Playhouse's current production, Million Dollar Quartet, was a historical revelation to me. While Elvis Presley, Carl Perkins, Johnny Cash and brash newcomer Jerry Lee Lewis (above) comprise the eponymous quartet, the play by Colin Escott and Floyd Mutrux gives us some back story by focusing on Sam Phillips (Jason Loughlin, left), whose Sun Records was the incubator of this new form christened rock 'n' roll. In his role as narrator, Phillips recounts the events of a fateful December night in 1956 when four of his most successful artists gather for a jam session in Memphis, called together to witness the extension of Cash's contract (a fact of which Cash is unaware). As enters the studio, Phillips reveals their back stories and encourages them to sing not only their hits but to join the others in several others, most notably two Negro spirituals. All the while, however, he struggles with his decision whether to join Elvis at RCA or remain at Sun Records where he can be his own boss.
That the action occurs one eventful night makes Million Dollar Quartet a bit different from most juke box musicals where the music is shoehorned in to fit a story. We see lots of dramatic conflict here: Phillips wrangles with his decision; the four young men squabble about authorship and primacy, and the three "veterans" gang up on the obnoxious but supremely talented Lewis, the new kid on the block. While we know that the quartet is ephemeral, Phillips' decision is only revealed in the final scene, keeping us in suspense and maintaining the dramatic conflict.
Of course, such a production would not succeed without talented actors who can sing and play instruments (in this case, guitar and piano), but the Paper Mill Playhouse has plenty of experience snagging such a cast; they did in for Bandstand (now on Broadway) and Pump Boys & Dinettes. In fact, two of the stars of the latter appear onstage in Million Dollar Quartet, and Hunter Foster's energetic direction keeps the music flowing, the drama heightening and the plot unfolding at a steady clip without feeling rushed. Each actor has time to establish his or her character. (Above, James Barry as Carl Perkins)
As Sam Phillips, Jason Loughlin's wise, avuncular performance serves as the show's anchor. Addressing the audience, he takes us into his confidence about things the boys don't know, while reporting how he discovered them and his anxiety about the decision he is about to make. He doesn't sing, but he does convince us the character has an eye for talent. And what talent we witness! James Barry's Carl Perkins plays a mean guitar and performs some fancy footwork in his blue suede shoes (yes, he wrote that ditty). As a handsome, regal Johnny Cash, Scott Moreau (below, left) sports a voice so low that it feels like it comes from his toes. It is especially basso in his rendition of "I Walk the Line." Alex Boniello (above left) may be a bit slight to portray Elvis Presley, but his pipes and swinging hips are on full display in "That's All Right" and a rousing "Hound Dog."
The fourth, and perhaps most talented of the four, is Nat Zegree (right), portraying a tightly wound, energetic Jerry Lee Lewis. It is difficult to take your eyes off Zegree, jittery, talking nonstop, hungry for attention and able to accompany his new mates, be it on piano or maracas! He can even play behind his back. Those of us who recall Lewis know that he was quite a character, as insufferable as he was talented. Zegree captures all that while making the man endearing.
Musical accompaniment for the quartet is provided by David Sonneborn (Fluke) on drums and Sam Weber as Jay Perkins on bass. The latter also appeared in Pump Boys & Dinettes; he reprises some of his musical stunts here to our delight. Russet-haired Bligh Voth (below right with Boniello) is superb (and beautiful) as Dyanne, ostensibly Elvis's girlfriend but a talented singer in her own right. She adds a touch of femininity to this testosterone-fueled reunion while she accompanies the boys in "Rockin' Robin" and belts out a snazzy "I Hear You Knockin' (But You Can't Come In)."
The evocative set by Derek McLane (and Adam Koch), featuring neon lights and gold records Sam used to transform the former auto parts store into a recording studio, is beautifully lit by Ryan O'Gara. Randy Hansen's sound never overpowers the performers and is as appropriate to Elvis's acoustic guitar as it is to Perkins' electric guitar. Molly Walz's costumes are appropriately flashy for Elvis, country for Carl, disheveled for Jerry Lee Lewis and majestic (all black) for Johnny Cash, and hair and wig design by Leah J. Loukas further transports us to 1956.
As it did with Bandstand, the Paper Mill Playhouse gives us more of a play with music, rather than the other way around. The musical numbers stand out, but they do not serve to further the story. They do, however, help us understand the role Sam Phillips played as "The Father of Rock 'n' Roll," and difficult choice he must make as the musical genre he birthed becomes big time. While we sympathize with him, we do have a rockin' good time. So come, be transported back 61 years, reclaim your youth for a couple of hours. You won't be disappointed.
P.S. Don't get up to leave when the play is over. There's an encore that really raises the playhouse roof, and you won't want to miss it.
Million Dollar Quartet will be performed at the Paper Mill Playhouse. 22 Brookside Drive, Millburn, through April 23rd. For information and tickets, call the box office at 973.376.4343 or visit www.PaperMill.org online.
Photos by Jerry Dalia and Mathew Murphy.