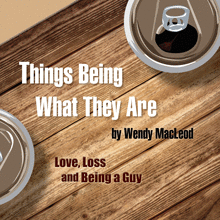 Things Being What They Are
by Wendy MacLeod
WHEN: Thursday, April 20, a preview performance, through Sunday, May 7, 2017. Performances are Friday and Saturday nights at 8pm, and Sundays at 2pm.
WHERE: Dreamcatcher Rep, Oakes Center, 120 Morris Ave., Summit
TICKETS: from $20 to $35, with special rates for subscribers and groups. Purchase tickets at www.dreamcatcherrep.org or by calling Brown Paper Tickets at 800-838-3006.
Special dates: Thursday, April 20 is a preview performance; all tickets $20. Friday, April 21 is opening night, followed by a reception with the cast. Sunday, April 23 is Senior Sunday; seniors age 65+ pay $20. Talkbacks follow the April 23 and 30 matinees.
Parking is available in the lot behind the theatre at 20 Ashwood Avenue and at the Summit Recreation Center, 100 Morris Avenue. The facility is wheelchair accessible. Assistive listening devices for the hearing impaired and advance large print scripts are available for free by prior arrangement. To purchase tickets or for information on any of Dreamcatcher Repertory Theatre's programs, visit www.dreamcatcherrep.org or contact Dreamcatcher Repertory Theatre at Oakes Center, 120 Morris Avenue, Summit, NJ 07901, business phone 908-514-9654.
Dreamcatcher Repertory Theatre, professional theatre in residence at Oakes Center in Summit, is producing the New Jersey Premiere of Things Being What They Are. This seriocomedy, written by the Artistic Director of the Kenyon Playwrights Conference, was originally produced at Seattle Rep and then had an extended run at Chicago's Steppenwolf Theatre.
The play tells the story of Bill, who is anxiously awaiting the arrival of his unfaithful wife at their new condo, and is visited by Jack, a divorced neighbor eager to share his wisdom about women, love and life. The play is a funny and wistful exploration of love, loss and masculinity and the needs that bring unlikely people together. When it played in Chicago, the Daily Southtown critic wrote, "This funny and bittersweet play is the sleeper production of the season...this show sparkles with an emotional poignancy that makes for a very moving and heartfelt gem of a show."
The production is directed by Laura Ekstrand (Livingston) and features Dreamcatcher ensemble members Clark Carmichael (Montclair) and Jason Szamreta (Rahway; above). Playwright Wendy MacLeod's play The House of Yes became an award-winning Miramax film starring Parker Posey, and was produced by many theaters around the country. Other plays include Juvenilia and The Water Children, both of which premiered at Playwrights Horizons and Women in Jeopardy!, which premiered at the Arden Theatre in Philadelphia.
About Dreamcatcher Repertory Theatre
Dreamcatcher was founded in 1994 as a non-profit professional ensemble of actors, a subset of whom perform in every production. The mission of our ensemble is to build community with the audience by sharing life-affirming stories in an intimate environment. We seek to expose theatregoers to ideas and lives like and unlike their own, to awaken their imaginations and create empathy for others. The company focuses on deepening the experience of our patrons by supplementing the performances with personal contact through receptions, talkbacks and interactive programs.
Dreamcatcher's core company of professional local actors performs contemporary work that entertains and challenges, and has at its heart a belief in the essential goodness of people. The company's activities include mainstage productions, improv comedy and cabarets, new play readings and a variety of educational and senior outreach programs.
Dreamcatcher's programs are funded by the New Jersey State Council on the Arts/Department of State, a partner agency of the National Endowment for the Arts; the Geraldine R. Dodge Foundation; Dramatist Guild Fund; The Summit Area Public Foundation; the Manley-Winser Foundation; and many other corporations, foundations and individuals. Dreamcatcher Repertory Theatre is an Equity Producing Theatre member of the New Jersey Theatre Alliance.