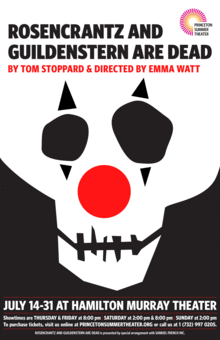 ROSENCRANTZ AND GUILDENSTERN ARE DEAD
by Tom Stoppard
WHEN: July 21-24, and July 28-31 with shows at 8pm Thursday through Saturday, and 2pm on Saturdays and Sundays
WHERE: Hamilton Murray Theater located on Princeton University's campus.
ADMISSION: $29.50 for general admission, $24.50 for students and matinees. To order tickets, visit http://www.princetonsummertheater.org/tickets or call the PST box office at 1-732-997-0205.
Praised as Tom Stoppard's modern tragicomic masterpiece and directed by Annika Bennett (Princeton University Class of 2015), Rosencrantz and Guildenstern Are Dead is a wonderfully inventive behind-the-scenes look into Shakespeare's Hamlet. Told through the worm's-eye view of the once minor characters Rosencrantz and Guildenstern, Stoppard's play takes us to a place where reality and illusion intermix. Join the protagonists on an absurdist tale of musings and misadventures as they discover their inevitable fate.
This summer focuses on the theme of the "Other," as each of the four shows in the 2016 season delves into the other side of a story or character and brings the audience to a deeper understanding of human nature. The theater goers will come away with a souvenir – a new perspective on what was once an old familiarity and an appreciation of the differences in all of us. The season continues with Sam Shepard's drama Fool For Love in August.