The Teaneck Community Chorus presents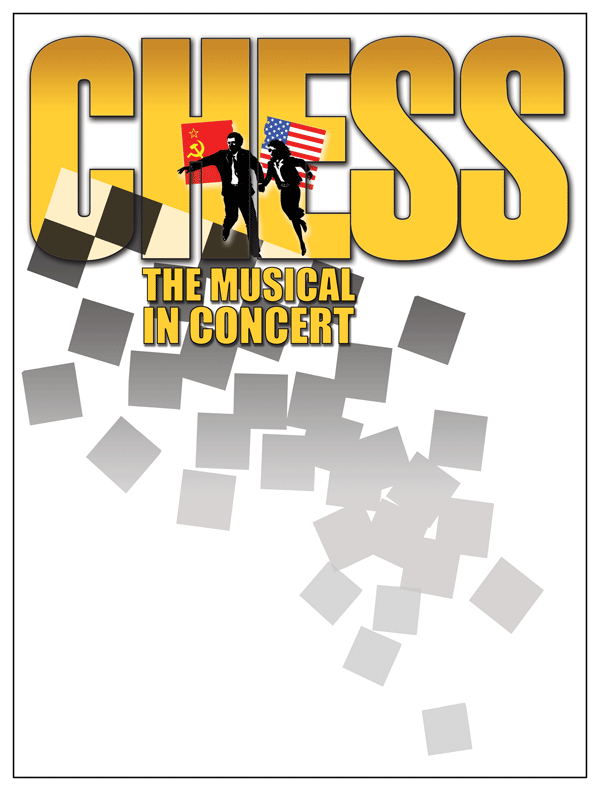 Chess, the Musical in Concert
Direction by Steven Bell
Musical Direction by Charles Santoro
WHEN: Friday, May 13, 8:00 pm; Saturday May 14, 8:00 pm; Sunday May 15, 3:00 pm. Sunday's performance includes a pre-show talk-back and ASL interpreters.
WHERE: Teaneck High School, 100 Elizabeth Ave, Teaneck
TICKETS: adults in advance: $18/$20 at door, seniors: $12/15, students: $5
Purchase tickets online at teaneckcommunitychorus.org or call 201-836-2934. The Teaneck High School auditorium is Handicapped accessible.
The production will highlight the intense Cold War rivalry between two Chess Masters—one Russian, one American—against the pulse of a monumental rock score. The game of chess is used as a metaphor for romantic rivalries and the East-West political intrigue during the cold war.
This is the first and only musical to celebrate chess—its history and intensity—along with the politics, national pride, hype, and yes, romance that accompany a world champion chess tournament.
Chess has been hailed as "one of the best rock scores ever produced in the theater" by Time Magazine, and "a buoyant, eclectic, stirring theater score" by the Observer. This gorgeous musical captures the cold war era rivalry between two chess grandmasters and the love that transcends their borders. Music was written by ABBA founders Benny Andersson and Bjorn Ulvaeus, with lyrics by Tim Rice.
Chess is rarely performed, so this is a special opportunity to enjoy the music live," said Steven Bell, Artistic Director of the Teaneck Community Chorus. "It includes many memorable songs in addition to the hit "One Night in Bangkok." Mr. Bell continued, "Our production is noteworthy because it incorporates a unique combination of songs from both the London and New York versions."
Professional soloists will sing the major parts, ensemble singers will supplement the chorus, and all will be backed by an orchestra.