By Sheila Abrams
There is only one weekend left for you to get to the Black River Playhouse in Chester, to see the Chester Theatre Group's hilarious production of The 25th Annual Putnam County Spelling Bee. If you are lucky enough to get a seat, it will be well worth the effort.
Roseann Ruggiero has directed a tight-knit, fast-moving, raucous show guaranteed to leave the audience giggling. The show, which opened on Broadway in 2005, is a beautiful example of what the 21st century musical theater is. What it isn't is Oklahoma. Or Man of La Mancha. Or in fact any of the 20th century classics. Not that it's necessarily better. But it is absolutely different!
There isn't really a plot. The situation into which the audience is thrust is a spelling bee in an unspecified county, which the flexible nature of the script leaves moveable. In the CTG version, a parent who is late to arrive is described as being tied up on the Pulaski Skyway. In a different production, he might be in a traffic jam on the Beltway or in some other appropriate local spot.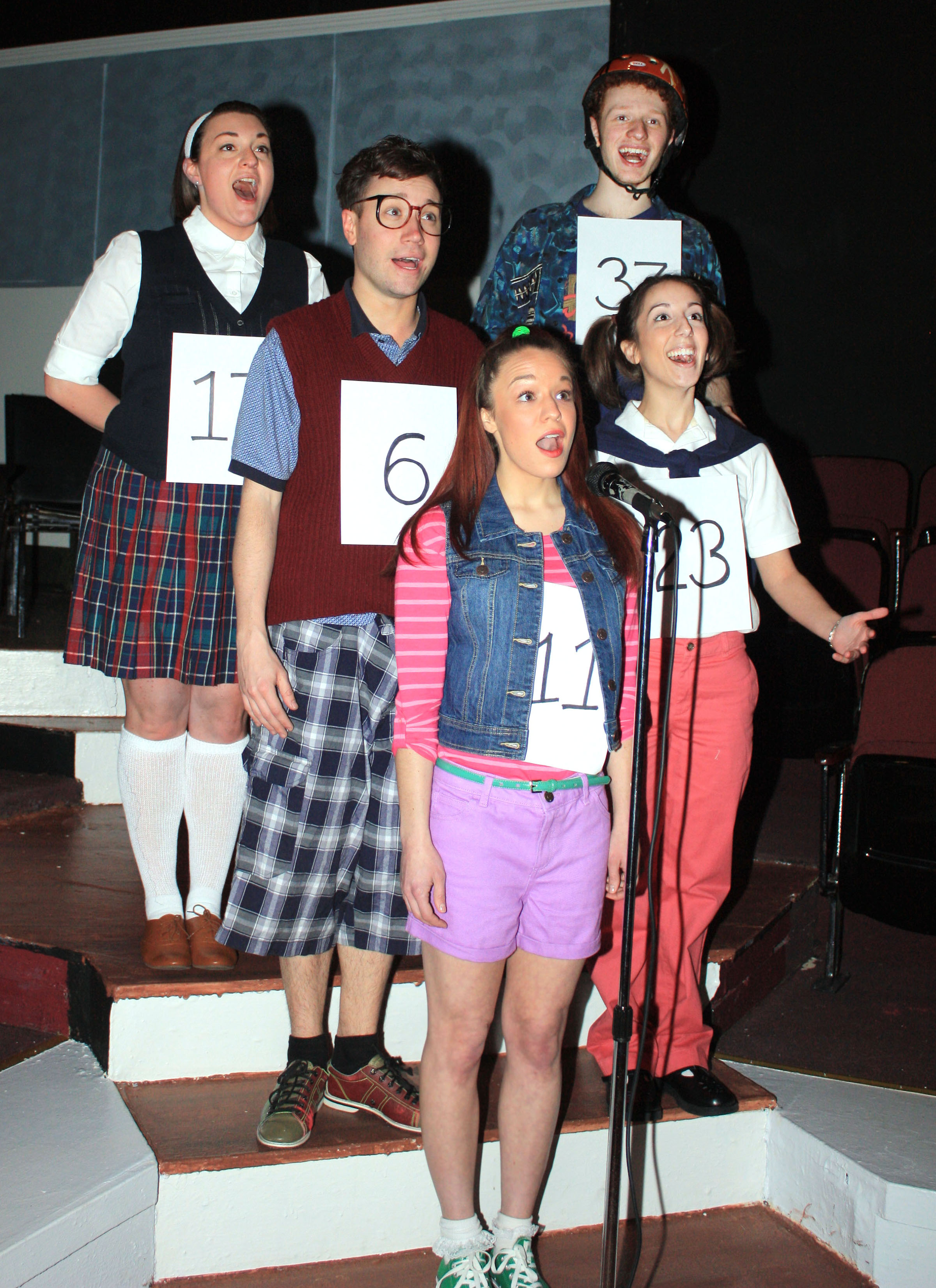 The competitors are middle schoolers, each with a back story and a lot of funny quirks. One girl, with the compound name, Loggaine Schwartzandgrubenniere (Becky Nitka) is the offspring of two fathers and the head of the gay-straight alliance at her school. Another, William Barfee, pronounced "Bar-fay," as he says over and over (Zach Mazouat) is a classic nerd who traces each word on the floor with his "magic" foot. Poor Chip Tolentino (Esteban Vazquez), a favorite based on past performance, has what we might call a biological malfunction which causes him a major distraction when his turn comes. (Above: (top row): Christina Pirog, Ethan Lynch; (middle row): Zach Mazouat, Becky Nitka; (bottom): Allie Acquafredda.)
The back stories of these three and three more, each a classic pre-adolescent misfit in one way or another, make up the body of the show. Each has a scene in the spotlight, and a song. They are joined by a handful of other competitors, volunteers drawn from the audience beforehand, who get some laughs before they are eliminated from the competition.
Then there are the adults. Running the bee are Rona Lisa Perretti (Barbara Haag), whose moment of glory was to win a bee some years past. In the key position of the giver of words is Vice Principal Douglas Panch (David Romankow). He is also charged with giving a definition and the word's origin, and using it in a sentence. This provides much of the show's hilarity. A third "official" is Mitch Mahoney (Michael McEntee), who is doing community service, comforting the losers and serving as a sort-of unofficial enforcer. In a cast of accomplished musical performers, McEntee's gorgeous singing voice stands out.
The choice of words for the competition is hilarious. The definitions and use in sentences are even funnier. But the delivery is the best. At one point, things speed up and the performers' voices rise in pitch as if they are a recording played at the wrong speed. The speed and the pitch come way down a minute later, as if things are moving in slow motion.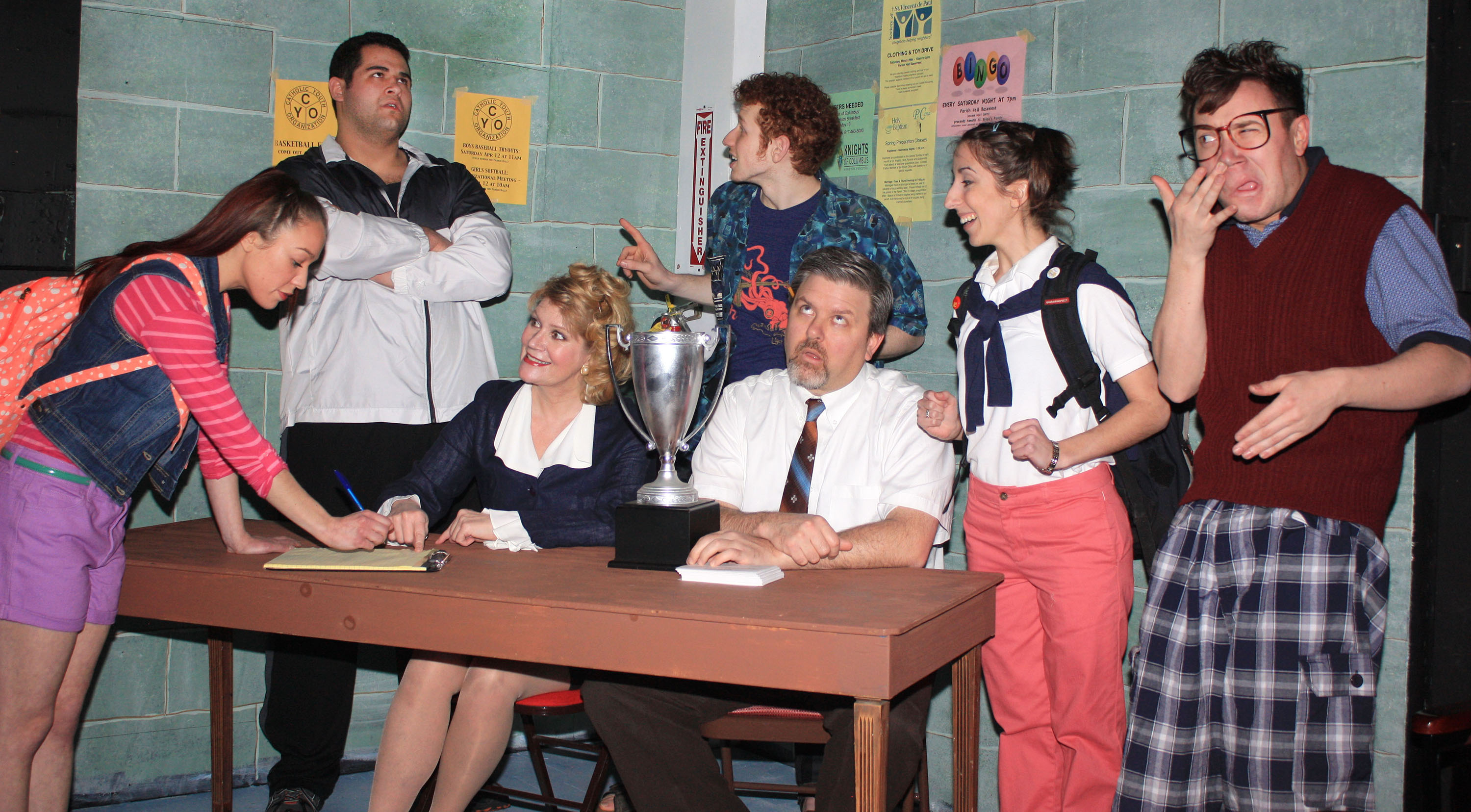 Also delivering marvelous performances in what amounts to a brilliant ensemble cast are Allie Acquafredda as Olive, a girl with absent parents; Ethan Lynch as Leaf Coneybear, a boy who is only there because some btter spellers had somewhere else to go; and Christina Pirog as Marcy Park, an overachiever who asks Jesus for permission to be less than perfect. (Above: (L-R): Allie Acquafredda, Michael McEntee, Barbara Haag, Ethan Lynch, David Romankow, Becky Nitka and Zach Mazouat.)
The songs, with music and lyrics by William Finn, are good and advance the plotline but are not memorable. The lyrics impressed more than the music. Rachel Sheinkin wrote the book and deserves a trophy for the wit of her words. The production was accompanied by an orchestra of 5 under the direction of Tracy Lee Witko. Billy Brisley was the choreographer.
This show is a delight. I tend to think much of the humor would be beyond the reach of children and I would not recommend it for the pre-teen set. Teens, though, would probably enjoy it. For reservations and schedule information, call 908.879.7304.