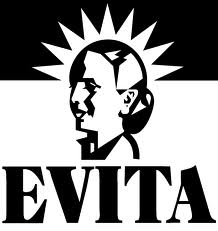 EVITA
Lyrics by Tim Rice
Music by Andrew Lloyd Webber
Directed by Bob Cline
Musical direction by Gonzalo Valencia
WHEN: November 8, 9, 10, 15, 16, 17; Friday & Saturday at 8 PM; Sunday at 2 PM
WHERE: Westminster Arts Center, 449 Franklin Avenue, Bloomfield
TICKETS: Adult - $25; Senior citizen – $22; Student (with ID) - $15; Bloomfield College student (with ID) - $4
Click here for ticket info!
Montclair Operetta Club continues its musical theater tradition with this production. With lyrics by Tim Rice, music by Andrew Lloyd Webber and a book also by Tim Rice, Evita concentrates on the life of Argentine political leader Eva Peron. The score includes the standards "Don't Cry for Me, Argentina" and "Another Suitcase in Another Hall."
The cast features New York resident Didi Gomez as Eva Peron, Joe Di Bartolo, of Wanaque as Juan Peron; Gonzalo Valencia, of Nutley as Magaldi (u/s Che), Jason Pumarada, of Jersey City as Che, and Fernanda Perfeito, of New York as the Mistress.
The production is directed by noted Broadway casting director Bob Cline, a veteran of many M.O.C. productions, with musical direction by Gonzalo Valencia of Nutley. Valencia has assembled an orchestra of 12 fine musicians to accompany a top-notch cast. Jim Kroener is the assistant director. Felicity Selby is the stage manager for this production.
Cline said, "It's an honor to work with Didi (Eva) on this piece. We've been talking the whole process, so I make sure I'm true to the view of the people from her native country. No matter how glamorized, I wanted to be respectful to the Eva Peron story. Didi knows the heart of this character, I help with the brain, and it's like we are making her soul together. Many members of this hugely dedicated cast knew this libretto better than I did when we all began, but we're telling the story our way.
"Whenever I'm handed a script, I ask myself, 'Why did the company or producers choose this show now or today?' My response is that it does not matter, since I think it's my job to fulfill the needs recognized by the theater company. Bringing a script to life is both an honor and a pleasure. Every script is written differently. Some have a ton a detail, and some have very little. Happily, this one has very little. You can really dig into just the words they've given you, and tell the story that you can see on the page. The more research you do, the more conflict you find where Eva is concerned. So, you take what you see on the page, add it to the reason why you want to tell the story today, and this is what we got." read more here
The musical began as a rock opera concept album released in 1976. Its success led to productions in London's West End in 1978, winning the Laurence Olivier Award for Best Musical, and on Broadway a year later, where it was the first British musical to receive the Tony Award for Best Musical.
This has been followed by a string of professional tours and worldwide productions and numerous cast albums, as well as a major 1996 film of the musical starring Madonna and Antonio Banderas. The musical was revived in London in 2006, and on Broadway in 2012. (Wikipedia)