AUDITIONS: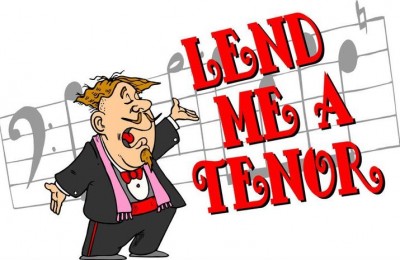 LEND ME A TENOR
By Ken Ludwig
Directed by Darren Gage
Stage Manager: Judi Liebert

WHEN: Tue. Feb. 28 @ 7:00 PM; Wed. Feb. 29 @ 7:00 PM
WHERE: STUDIO PLAYERS, 14 Alvin Place, Upper Montclair
973.744.9752
www.studioplayhouse.org
Performance dates: May 18, 19, 20, 31, June 1, 2, 3, 7, 8, 9 (no performances Memorial Day Weekend)
Sides will be provided.
No Monologues ~ No Memberships or Fees Required
Lend Me a Tenor is a great American farce set in the 1930s. Screwball comedy results when Tito Morelli, the fiery-tempered Italian opera star, arrives in Cleveland to make his local debut and promptly goes missing. As the opera company scrambles to cover for Tito's absence, placate his hotblooded wife, and distract his most passionate fans, chaos on a truly epic level ensues.
CAST
Max: (male, 25-35) attractive, energetic assistant to Saunders; aspiring opera singer - must be able to sing well enough to get through brief arias (tenor/high baritone) - but comedic acting skills are primary.
Tito Morelli: (male, 35-55) a world-famous tenor, known also to his fans as "Il Stupendo;" an egocentric Italian opera star/womanizer - must be able to sing well enough to pass as an opera singer (tenor/high baritone) - but, as with Max, acting kills trump vocal prowess. Accent required.
Saunders: (male, 45-65) General Manager of the Cleveland Grand Opera Company, and Maggie's father, a normally, well organized CEO whose world is crumbling about him.
Bellhop: (male, 18-30) a rabid opera hopeful/enthusiast; must be able to sing a cappella operatic arias well enough to be recognized.
Maggie: (female, 20-35) Max's girlfriend: an appealing but naive young opera enthusiast who is smitten with the idea of Tito Merelli.
Maria: (female, 30-50) Tito's wife: a very passionate, emotional Italian woman who is possessive of her husband. Accent required.
Diana: (female, 20-40) a soprano; a beautiful, ambitious opera soprano who will do anything to advance her career. Singing ability not required.
Julia: (female, 40-70) Chairman of the Opera Guild: Wealthy, influential high society woman in love with the idea of opera and opera stars, but not the brightest bulb in the universe.