AUDITIONS: NOTICE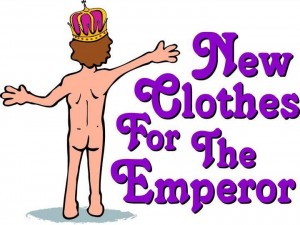 NEW CLOTHES FOR THE EMPEROR
By Cynthia Mercati
Directed by Ken Budris
Stage Manager: Amy Fox
WHEN: Sun., Jan. 29, at 7:00 PM; Mon., Jan. 30, at 7:30 PM
WHERE: STUDIO PLAYERS,14 Alvin Place, Upper Montclair
973.744.9752
www.studioplayhouse.org
www.facebook.com/studioplayhouse
Two fast-talking con men help a kind but misguided emperor learn that the heart—not the clothes—make the man. Full of physical humor and dynamic, lovable characters, this new telling brings zip and zing to the classic Hans Christian Andersen tale.
Sides can be viewed at www.studioplayhouse.org.
No monologues ~ No Membership or fees required.
Please come prepared to list any conflict dates.
Cast of Characters
Narrator: (male or female, any age) Breaks the fourth wall to tell us the story but is also a part of it. A humble sweeper upper at the palace, this character provides much-needed wisdom to the emperor and his court.
Emperor: (male, 30s-50s) Has a certain childlike innocence that makes his vanity endearing rather than offputting.
Empress: (female, 30s-50s) Bossy… but in a lovable way. The fact that she doesn't know what she's talking about never stops her from saying it with great confidence.
Chenille: (female, teens-20s) Daughter of the emperor and empress. Frustrated by their vanity and knows there must be more important things in life than what we wear.
Gabardine: (female, any age) An energetic and silly maidservant at the palace.
Count de Gauche: (male, 20s-40s) The self-serving, two-faced prime minister to the emperor.
Capt. Herringbone Faircloth: (male, 20s-30s) Courteous, charming, sincere—a genuine fairytale hero.
Tailors (1 & 2): (male or female, any age) Con artists of the most polished variety. Smooth and confident. Able to weave a web of deception. Must be good at pantomime.
Performance Dates: April 20 – 29. Plus a special performance at The Giggles Theater at St. Joseph's Children's Hospital on Thursday, April 26 evening.