The Lambertville–New Hope
WINTER FESTIVAL
January 26 – 30, 2011
The Lambertville–New Hope Winter Festival provides a healthy, invigorating cold-weather experience in these two river town communities, which demonstrates that these multi-faceted communities are alive and well in the winter months with exciting and diverse activities. For 2011, Winter Festival will host over thirty events. For a complete list of all events, go to the Events Page.
Winter Festival has "Crazy Love" for POCO
The 2011 Winter Festival Committee is pleased to announce this year's concert performer will be country-rock pioneer Poco. Please come Friday, Jan 28, at 8 PM as Poco performs their hits "Crazy Love," "Rose Of Cimarron," "Heart Of The Night," "A Good Feelin' To Know" and "Call It Love." Click here for more information on the Poco concert. To purchase tickets, go to their TICKETS PAGE.
Tickets to all events are now on sale!
Be sure to order your tickets early as many events sell out in advance. NOTE: The Chili Cook-off is SOLD OUT. Go to the TICKETS PAGE now for all other events!
FREE PARKING
George Michael has generously offered free parking at Union Square over the Winter Festival weekend from Friday 5:30 PM through Sunday at 6:00 PM.
Second Annual Food Drive
Again this year, the Winter Festival is hosting a food drive for Fisherman's Mark. The need for food is a crisis in this community. This problem can easily be solved with each of us contributing a small amount and collectively filling the need. Food donation canisters will be provided along the parade route, as well as at all ticketed events. For complete information about the food drive, please go to our Fisherman's Mark page.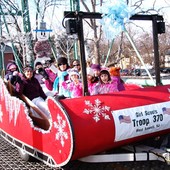 Annual Parade
Come join the parade. This annual Winter Festival parade marches right across the bridge. All floats, marchers and fun loving revelers are welcome. For complete information about the parade, go to the Parade page.